The question of last weekend's Big Daddy Regatta was, with two perfect days of weather and wind where were all the boats? It seemed like a smaller crowd on Saturday's buoy racing with two courses instead of the usual three set up between Southampton Shoals and the Berkeley Pier.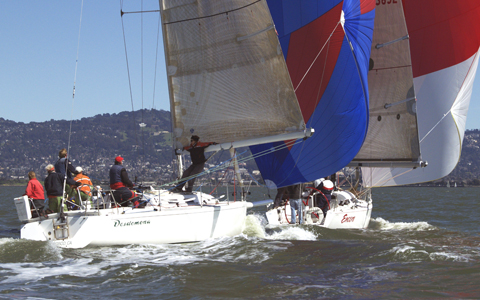 The J/120 Desdemona chases Encore, a Sydney 38, on the Deep Water Course. ©2010 norcalsailing.com
On the Deep Water Course, the big boats enjoyed a nice 10 to 15 knot cold but steady north-northwesterly.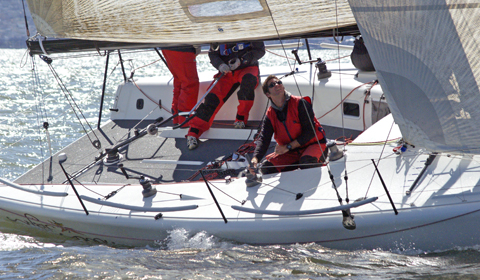 War Pony, a Farr 36, on the Deep Water Course. ©2010 norcalsailing.com
On the Olympic Circle Course the wind died to a zephyr by the third race as the wind clocked to the west, moving the Angel Island wind shadow over to the racing area. All of the boats had windward/leeward short courses with the Richmond YC race committees struggling to keep things fair and square.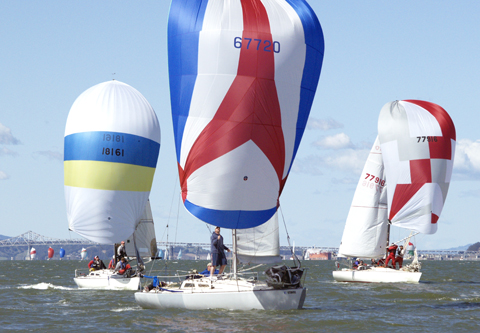 The Olson 30s fielded six boats, topped by Mas Rapido. Voodoo Child, Wraith and Hoot are pictured here, l-r. ©2010 norcalsailing.com
On Sunday the temperature went up 15 degrees and the wind went light. After a one hour postponement, the RC sent everyone off on the Big Daddy pursuit race around Angel and Alcatraz islands.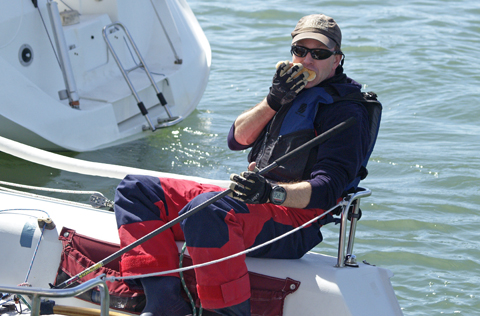 "Sausages" (hot dogs) were passed from Jitterbug to Too Tuff at the start. ©2010 norcalsailing.com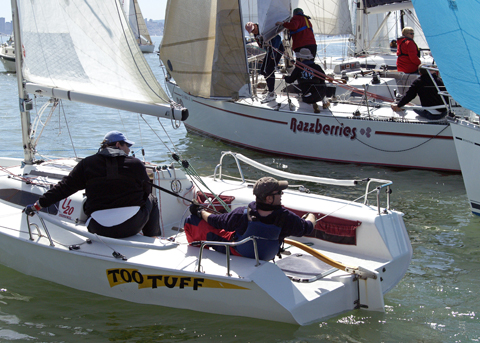 The start on Sunday went off in slow motion. The blue spinnaker belongs to Jitterbug. It didn't seem to help them. ©2010 norcalsailing.com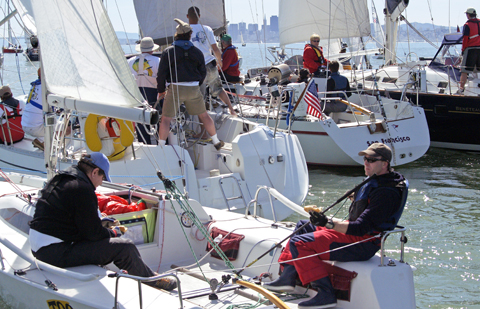 "Come up, come up!" Good luck with that. © 2010 norcalsailing.com
The preferred route this year was clockwise with the counter-clockwise boats putting in a good showing.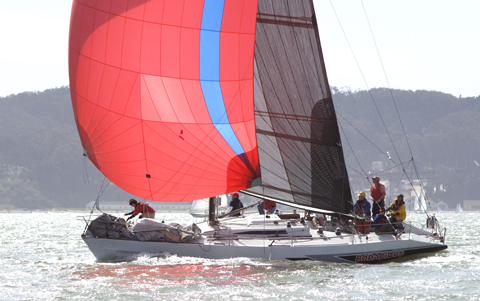 John Clauser's Farr 1-ton Bodacious was first around Angel the 'wrong' way. They finished tenth overall. ©2010 norcalsailing.com
It was the year of the big, fast boats, as the first finisher was Shadow, Peter Stoneberg's Prosail 40 catamaran, leading a pack of multihulls. The top monohull was Double Trouble, Andy Costello's J/125 with his two little boys onboard. Even fighting a strong ebb, everybody make it back to the Richmond YC clubhouse for champagne and hors d'oeuvres with plenty of light left in the day thanks to being the first day of Daylight Saving Time.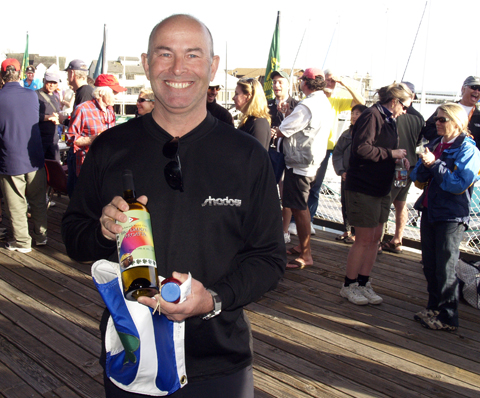 Peter Stoneberg looking forward to enjoying his prizes. ©2010 norcalsailing.com
For complete results from both days, see www.richmondyc.org. We took lots of photos of the Big Daddy Regatta and have posted our Big Daddy photo galleries.