The third annual Sarcoma Cup is coming to Berkeley YC on August 28-29, and we encourage all one design, PHRF and IRC racers to sign up, join the fun, and help raise money for a good cause. Saturday's buoy racing will take place on two courses in the Olympic Circle area, similar to last year's. The tides are favorable, so deep draft boats won't run aground. Sunday will feature a pursuit race for most of the divisions. Trophies will be awarded after each day's racing, including a new perpetual trophy for Beneteaus, the 'First Passage Trophy'.
Several yacht clubs are collaborating to make this event possible: South Beach YC, Richmond YC and Berkeley YC will work together on the water.
St. Francis YC is donating items for the silent auction and the raffle. Regatta Network is waiving their fee.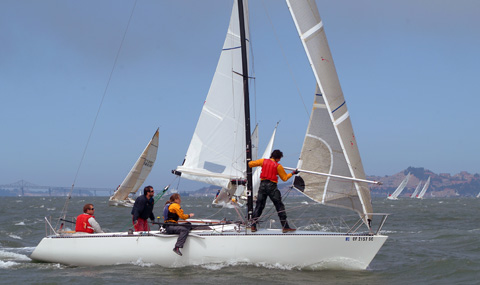 The Express 27 Magic Bus gets ready to set the spinnaker in last year's regatta. ©2010 norcalsailing.com
A race photo slideshow will be shown both days, and photo downloads will be available. Shoreside fun includes free massages, live music pretty much all weekend, free wine, free beer, and free coffee and pastries. The dinner menu went upscale but it's still priced at $15. An online auction features a ride on the Archambault 40, a personal flight for three, diamonds, and many other cool items. High value sailing items will be raffled off on Sunday. The winner of the fundraising competition gets to meet Survivor winner Yul Kwon!
In case you're not familiar with it, sarcoma is a little known form of cancer that primarily affects the young. 100% of the proceeds of the Sarcoma Cup go to the cause. For more information, see www.beatsarcoma.org, and go to www.sarcomacup.org for more on the event and to register for the regatta.