Last weekend's Sarcoma Cup, a fund-raiser for Beat Sarcoma, was by all reports a success. In its third year, the event was hosted by Berkeley YC for the first time.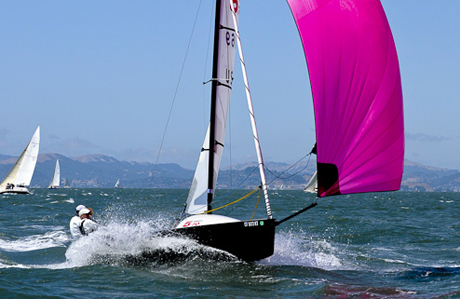 Hat Trick came from South Coast Corinthian YC (Marina del Rey) to race in the 13-boat Open 5.70 division. ©2010 Erik Simonson/www.pressuredrop.us
Organizer Nathalie Criou reports that, "We were very happy to see such a great turnout - both on the water and at the club after the race, despite the change of venue this year - and more importantly, super happy to see that people seem to have really enjoyed themselves! They were definitely treated to a typical summer day on San Francisco Day."
Almost everyone (86 boats) chose to race both days. Ten more sailed on Saturday only, and seven on Sunday only.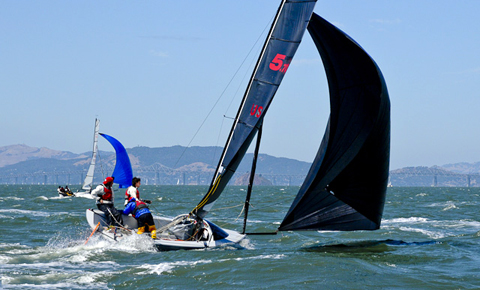 Keeping it together in the Sarcoma Cup . ©2010 Erik Simonson/http://pressure-drop.us
John Cabrall of Got Wind and Water gave us a taste of what the racing was like: "I went to the 2010 Sarcoma Cup and all I got was this t-shirt… Correction: I got this t-shirt, had a blast and contributed to a worthy cause.
"On Saturday morning a weather system was making its way towards the east and San Francisco Bay had a very atypical time warp feeling to it. As the PHRF A division started just after 11:00 on the Olympic Circle Course, we had a short upwind beat into steep chop and a mid-twenties breeze.
"Since when does 11:00 a.m. feel like 2:00 p.m.?
"There was some confusion as the first boats rounded the weather mark. Some figured out the other mark in the distance was in fact the 'offset' mark, others did not, and the protest flags came out. By the second race it became clear that the short course legs and high winds did not offer much to the subject of 'tacking downwind'. Get the kite up, strap it down and hold on as you blasted dead downwind rocking and rolling to the leeward gate. Wow, what a ride!"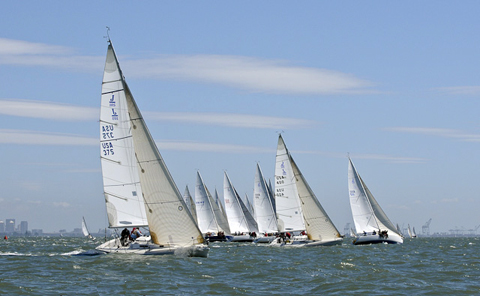 A J/105 start in the Sarcoma Cup. ©2010 Erik Simonson/http://pressure-drop.us
"The event grossed over $30,000," said Nat, "and 100% of cost was covered by sponsorship." For results, photos, and more, see www.sarcomacup.org. John Cabrall's photos are available at:
www.gotwaw.com/photos/1048931/#17648547 (Saturday) and
www.gotwaw.com/photos/1046537/#17597758 (Sunday).
Meanwhile, over in Marin, Corinthian YC and San Francisco YC were both running regattas for woodies and their sisters. CYC got the smaller one designs, sailing a WBRA race, and SFYC got the big schooners.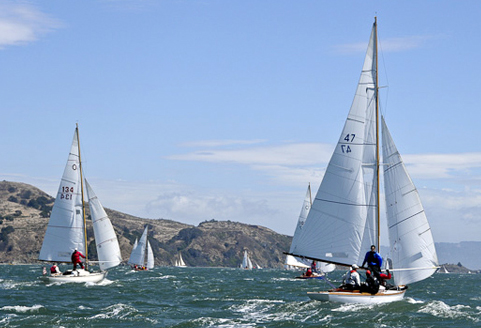 Knarrs in the WBRA race. ©2010 Erik Simonson/http://pressure-drop.us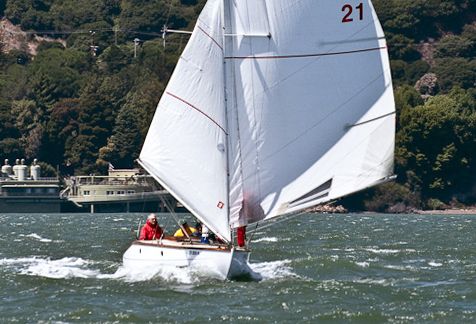 The Bird Widgeon takes wing in the WBRA series. ©2010 Erik Simonson/http://pressure-drop.us
Bears, Birds, Knarrs, Folkboats, and IODs competed in the WBRA race. For their results, see www.yra.org. On September 11-12, the WBRA heads over to SFYC for the Fall Classic Invitational.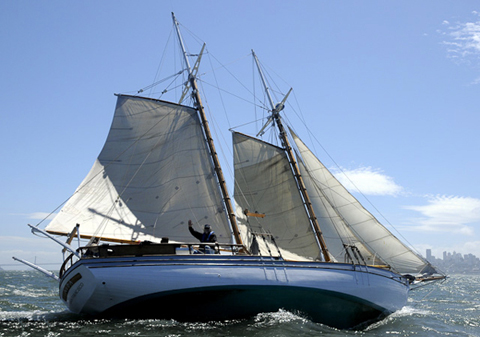 Aida heeling on a beat in the Great San Francisco Schooner Race. ©2010 Erik Simonson/http://pressure-drop.us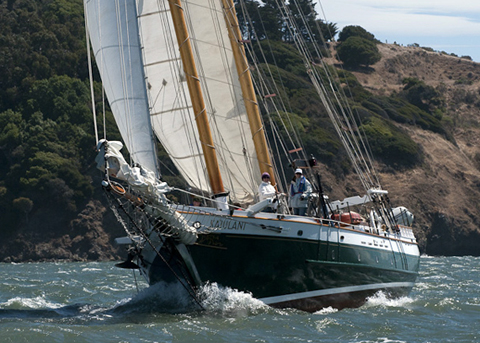 Kaiulani reaching along past Angel Island. ©2010 Erik Simonson/http://pressure-drop.us
In the Great San Francisco Schooner Race, Jeff Hawkins' Jakatan won the Gaff Division, while the Kaplans' Santana won the Marconi Division. For complete results, see www.sfyc.org.
Thanks to Erik Simonson for all the exciting photos!