Cal Maritime Academy's TeamUSA is in La Rochelle, France, one of 14 teams representing 12 countries in the Student Yachting World Cup. Doug Webster, Director of Public Relations for CMA, filed this report after Wednesday's racing:
TeamUSA produced two fourth places and a sixth in a long day of good racing under generally steady 5-8 knot winds and sunny skies. More than once the team got into trouble early because of starting line congestion or wind shifts, but each time they were able to recover ground and get back up towards the head of the pack - a sure sign of a team with a lot of skills and strengths.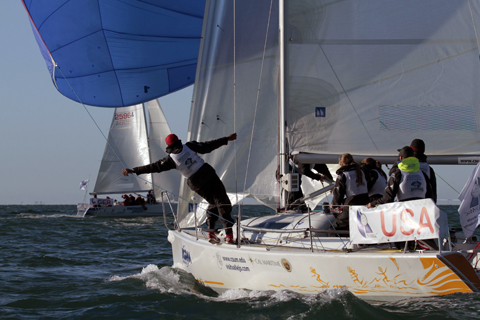 A spinnaker run on Tuesday. ©2010 Doug Webster
This was a day that featured a fair amount of 'bumper cars' action with boats running into each other at the starting line and at turning marks. It's not unusual with lots of boats all trying to jockey for the best spot at the line or trying to find an inside slot around the mark to accelerate away from the competition. TeamUSA was involved in a stanchion bender involving Japan and Portugal at the start of the first race. We clearly were not at fault, but due to the rules of racing, we are filing a protest against the Japanese to protect against the possibility of Portugal protesting us. We obviously were not eager to tangle with either party, but Japan essentially left us nowhere to go essentially.
Protests take time to sort out and we suspect there are going to be a fairly large number of them to be resolved by the Race and Protest Committee overnight. In fact, because we knew that was a good possibility, as soon as the last race ended, tactician Sean Kelly jumped aboard the coaches' boat and was rushed ashore to start filing paper work since first filers get first hearings. All of this will affect overall standings if various boats get penalized for whatever reason.
Our standing which was fifth overall going into today's competition and we don't expect any penalty actions against us. However, overall standings will undoubtedly change when all the finishes and any penalties are factored in. And because today's three races bring our race total to 10 for the Cup series, teams can now throw out their two worst scores, which will further impact standings.
Suffice it to say however, that Switzerland and England continue to be the cream of the crop so far in this series. Both did well today and that will solidify their hold on the lead. But hope springs eternal. There are still two more days of racing to go and all sorts of wonderful things can happen in sailing - failed equipment, heading for the wrong mark, sailing into a wind hole, snarled spinnakers - the combinations are endless.
Today's (Thursday) report:
Arrghhhh! Yawn! Shiver! We've had a bit of all of that today. What started out looking like a day for some good winds of maybe 10-12 knots, instead turned into a day with fog thick enough to halt everything. Les Crews du Monde gathered at the Vieux Port and around 9:30 motored out through the fortress entrance, only to find the Race Committee boat parked in the fog, busily directing everyone to turn to port and into the other new harbor to dock and await further instructions. At 3:30 p.m., after several hours of sitting around waiting for something to happen, we finally found ourselves out on the Bay again trying to get in one short course race and then hopefully the 'night race', a longer competition of about 18 miles started late in the afternoon and sailed into the evening.
We did get in the first race, although TeamUSA would, in retrospect, have preferred it never happened. We came away with a disappointing sixth, and had nobody to blame but ourselves. What turned out to be a premature spinnaker douse, as we rounded the final mark to port and headed for the finish line, found competitors taking advantage of our lack of matching speed and cutting inside to pass us.
The Committee set things up for the night race format and sent the boats on their way under gray skies with a line of light rain squalls ahead and approaching dark. TeamUSA had a good start and maneuvered well to hold a position among the top five heading for the first mark. In a long race like this, leads can change several times, with obvious risks of navigation errors given the darkness and unfamiliar waters. Tonight's night race will be the 12th of the Cup, and that will enable teams to discard their three worst finishes.
- Doug Webster, Cal Maritime Academy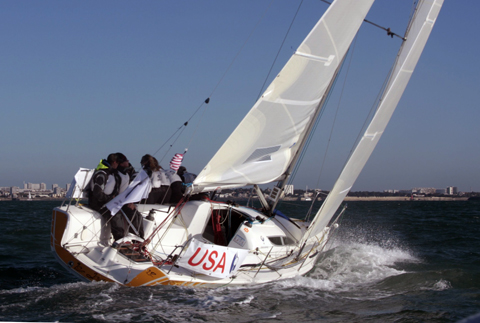 An upwind leg. ©2010 Doug Webster
The boats in this regatta are very French. The Grand Suprise is a Joubert Nivelt designed 31-footer that looks sort of like a Flying Tiger 10-meter with a weight problem. It can fly an asymmetric or symmetric spinnaker and weighs in at 5,900 pounds. The teams are using symmetric chutes for this series.
Also see our previous report on this regatta, filed on Tuesday night. Racing concludes tomorrow. We'll have a wrap-up later on. For more, visit http://followteamusa.csum.edu and www.sywoc.org.