Happy spring! And welcome to the spring sailing season. Yesterday's racing featured the Rites of Spring, hosted by Oakland YC on the Central Bay, South Beach YC's final midwinter race, Corinthian YC's midwinter bonus race, and St. Francis YC's Spring One Design, which continued today. Spring blew in a day early on Saturday, with wet, wild and windy conditions. Rollers in the Estuary discouraged some from venturing out onto the Bay for the often-blustery race they don't call 'Rites' for nothing. OYC reports that, "The annual Rites of Spring race was held on a wet and wild day. Only 16 of 62 boats chose to race, and of those, only 12 finished." Entire divisions were scored DNC (Did Not Compete). For complete results, see http://sites.google.com/site/oycracing/Home.
South Beach also suffered from DNCs plus four RAFs (Retired After Finishing), due to rounding mark 32 the wrong way. Seas were very lumpy, with 20-25 knots of wind. See http://www.southbeachyachtclub.org for results of that series.
A new race to bid farewell to winter and welcome spring was created by Corinthian Yacht Club. Known for their midwinters spanning two weekends in January and February, the club decided to add a one-day pursuit race open to all those who signed up for the Midwinters. "Actually it's open to anyone this year," remarked Michel Moradzadeh, the race's creator. "And we are glad to see the brave 13 boats that made it today." The conditions for Saturday's Corinthian racers were not perfect, with rain and a good amount of wind and chop.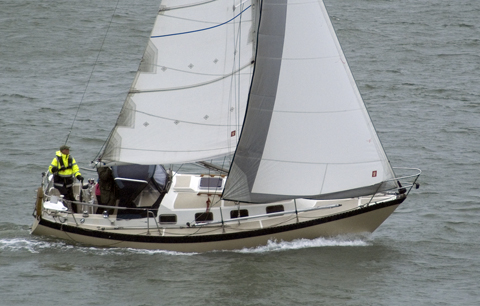 The Lancer 30 Geronimo was the first boat to start. ©2011 norcalsailing.com
The reverse handicap starts went off without a hitch. Michael Campbell's Lancer 30 Geronimo started first (slowest boat), and Mary Coleman's Farr 40 Astra started last (fastest boat) The winners were the Elliott 1050 Basic Instinct owned by Jan Borjeson in Non-Spinnaker and Timothy Ballard's Beneteau First 40.7 Inspired Environments in Spinnaker division. The pursuit, basically a wide rounding to port of Angel Island, was run masterfully by the race committee, stationed inside the club 10 feet from the bar and out of the rain. When asked if they will do the race next year the race committee said, "It's easy to run a pursuit race so maybe…"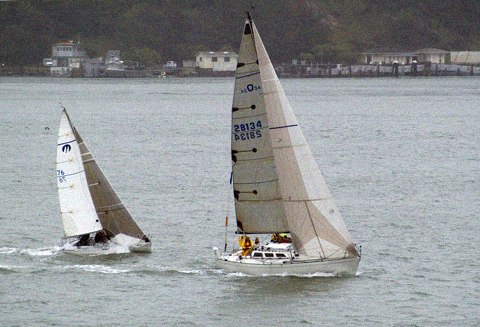 The Moore 24 JR chases the Olson 34 Temerity. ©2011 norcalsailing.com
Results are available at http://cyc.org.
The J/105s and J/120s in St. Francis YC's Spring One Design got a bit of everything this weekend, as they raced both days.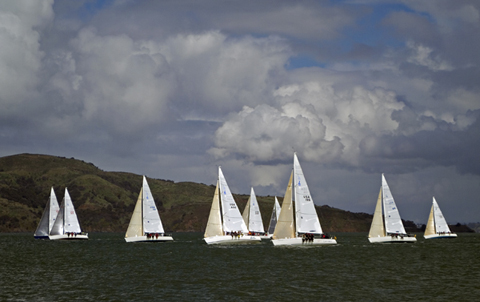 Eighteen J/105s came out to play in sun and rain. ©2011 norcalsailing.com
Rich Hudnut, Jr., who sailed aboard the J/120 Twist, describes the weekend: "Our first practice set Saturday was nuts. We hit over 14 knots of boat speed. The wind backed off, but the rain didn't, so we were soaking wet all day. For some reason the Coast Guard didn't let the RC set a long course across the shipping lane, so our course was very short, also some first regatta bugs with Race Committie VHF radio issues. Today had way less rain, and less wind, but a more normal course."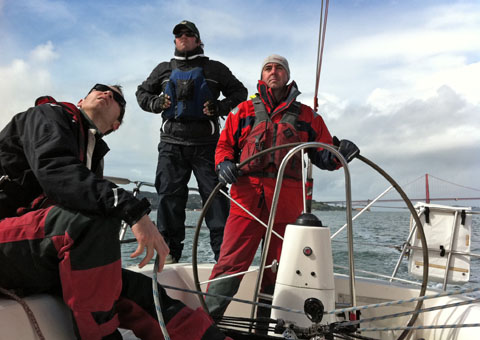 Onboard Twist Sunday: Ryan West, Craig Allender and Timo Bruck. ©2011 Rich Hudnut, Jr.
Sunday's racing up and down the Cityfront was reachy, as the wind was still coming from the south. The winning J/105, Bruce Stone's Arbitrage, tacked in to shore for relief against the light flood, and made out well.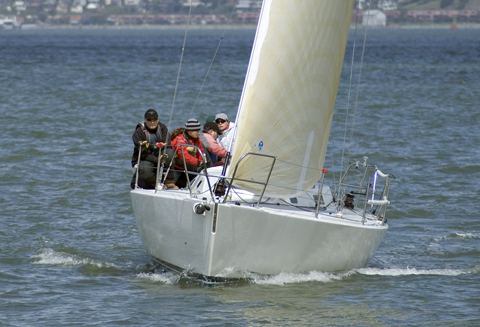 Arbitrage heads toward shore for current relief. ©2011 norcalsailing.com
Barry Lewis's Chance finished the racing one point ahead of Desdemona to take the win in the J/120 fleet. All the results are available at www.stfyc.com.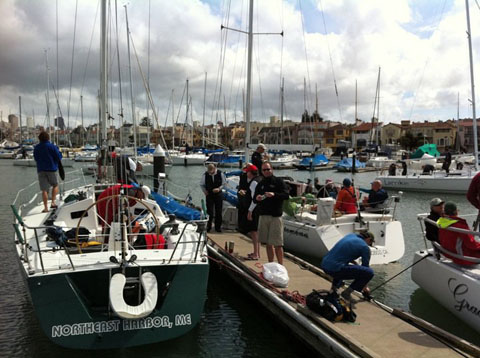 "The first race of the season is in the books, crack some beer." ©2011 Rich Hudnut, Jr.
For Sergei Zavarin's video of Sunday's racing aboard Mr. Magoo (pictured above left), see www.youtube.com/watch?v=Q8TNLkpKyro