The Open 5.70 Spring Dash was hosted by Encinal YC on Saturday and Sunday specifically for the Open 5.70 OD fleet. Four races were organized on both days. Prior to the first race each day, multiple practice starts were set up to warm up the fleet. The last race of the day was a downwind run in the Estuary with the finish in front of EYC.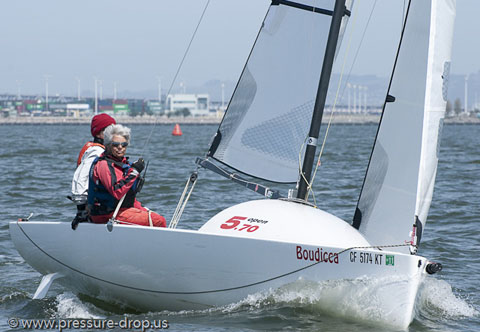 Cathy Moyer and Kathy Conte on Boudicca. ©2011 Erik Simonson/www.pressure-drop.us
Eight boats participated, including one from Southern California. Due to a skiing injury, a ninth boat had to cancel. Saturday, the wind started medium and quickly picked up to 20 knots, to the joy of the fleet. Summer-like conditions made the races quite fun with the boats getting in planing mode quickly. Sunday had perfect conditions with good wind and great sun.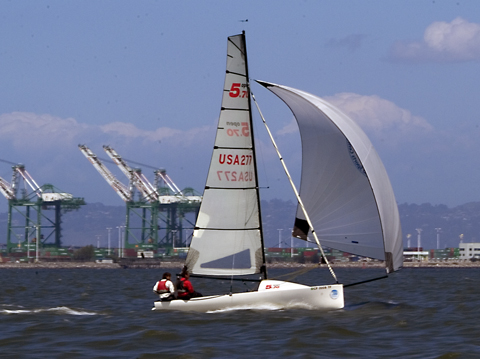 Demonic gets up on a plane. ©2011 norcalsailing.com
Nik Vale, doublehanded on Demonic, US277, dominated the first day to finish first overall followed closely by Tom Baffico on The Maker, US288, who finished second overall. Marc Finot on Frolic, US208, finished third after a very consistent regatta.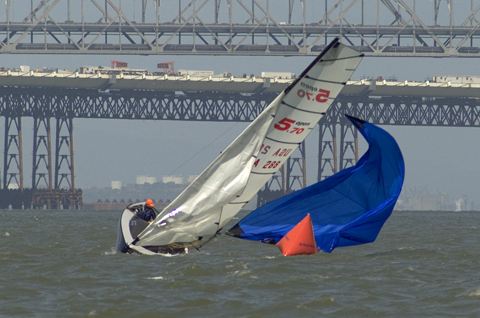 The Maker may have set a little too early at this mark rounding in the summer-like conditions. Their spinnaker sheet snagged the mark and they were stuck there for a bit. ©2011 norcalsailing.com
The fleet is very thankful to the Encinal YC for this very successful first edition of the Open 5.70 Spring Dash. The results are on the EYC site.
- Marc Finot, Fleet Captain
The Open 5.70s will have their West Coast Invitational Regatta at Golden Gate YC on August 20-21. A photo gallery of the Spring Dash is now available at http://mattbeardsleyphoto.zenfolio.com/encinalyachtclub.