This year's Singlehanded Sailing Society Richmond-South Beach Race ended up being a minefield of holes and adverse current for the 72 participants on Saturday. The race is a long 20-mile Bay tour starting on the Olympic Circle at GOC near Southhampton, around the Brothers, around Little Harding and across the Slot to the South Bay and buoy SC and then to the finish at South Beach Harbor.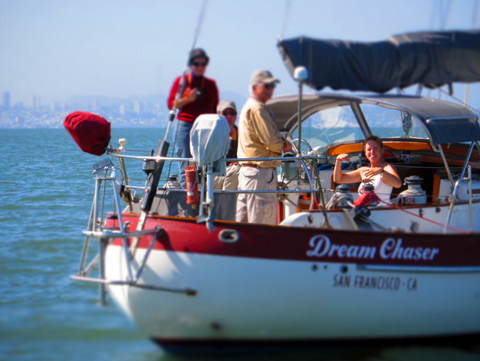 Singlehanded TransPac vet John Hayward brought his Valiant 40 Dream Chaser out for race commitee duty. ©2011 Stephen Buckingham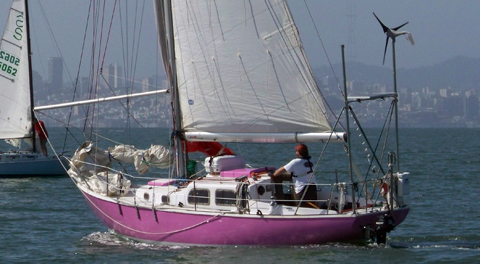 The newly-painted 'Pink Boat', Darwind, looks ready to sail around the world, but first she'll sail around the Bay. ©2011 Kristen Sotebier/norcalsailing.com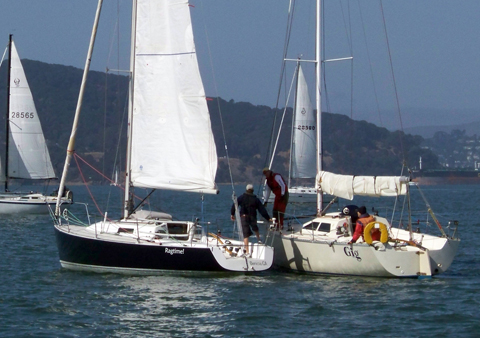 Bob Johnston on the J/92 Ragtime! lent the Humboldt 30 Gig his spare VHF radio so they could race. ©2011 Kristen Sotebier/norcalsailing.com

Singlehander Brian Lewis of the Wylie 39 Gavilan. ©2011 Kristen Sotebier/norcalsailing.com
This year's starting line had the competitors and race committee a little confused when GOC seemed to be on walkabout, but a substitute mark was quickly Macgyvered in the form of a fender with orange PFDs tied to it. After a light wind reaching start, parking lot A was found at Red Rock and as the wind died the flood current pushed some boats into the 'Forbidden Zone' off the Richmond Long Wharf and therefore out of the race.
Lot B was found heading into Raccoon Strait, and while some of the boats found wind by staying in the channel they eventually lost out in the flood and less breeze. Those a little to the west and east made it through. The fleet enjoyed a nice reach to Blossom Rock before another parking lot formed at the foot of the Bay Bridge. It was this one that ate up the remainder of the fleet and saw more drop-outs due to the looming 1900 time limit.
With what looked like such a nice day for a sailboat race it was surprising to see the number of drop-outs; 27 boats couldn't finish. For line honors, Dark and Stormy, a 1D35 monohull, almost beat Tatiana, a Corsair F-9rx trimaran boat for boat, with Tatiana finishing relatively fast at 1523 in the afternoon.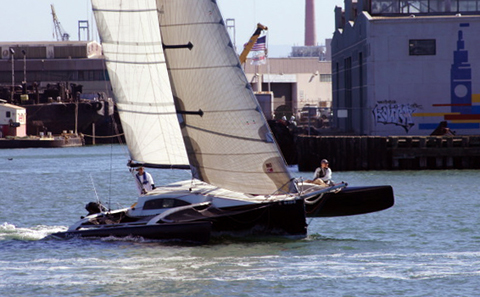 Tatiana at the finish line, the entrance to McCovey Cove. ©2011 Steve Ripple/SSS
Mike Holden, crewing on the Ultimate 24 Max with Bryan Wade, stuck it out and almost came out big. "It went really well for us except for the 10 seconds that kept us from first place, but Dark and Stormy were working hard when we saw them and deserved the win. PHRF at its best when they owed us 35 minutes and we corrected that closely. They were so far ahead I was surprised we were that close on handicap.

Max at the finish. ©2011 Steve Ripple/SSS
"The U24 is a good doublehanded boat. It depowers acceptably with the adjustable rig tension and two people can work it just fine, although sometimes you miss the rail meat in the heavy air. It got light after the start, so we jibed in towards shore and sailed around a bunch of boats. There was a current line with more flood inside. We had to drop the kite and reach hard to stay out of the Richmond Long Wharf forbidden zone. It looked like several boats were flushed over the line between the first two buoys, but it's hard to say for sure. We re-set the spinnaker and found a bunch of boats had made the left side work well as the wind and flood was building. It looked light inside along Tiburon so we went back and forth a bit to stay in the wind, which worked pretty well.
"We got through Raccoon Strait with a couple of tacks and good breeze on the right hand side, just a small light spot in the usual place off Belvedere. It was really windy once we got out towards Little Harding and a bunch of big boats behind us went past. We switched to the small kite because it was windy and it reaches better, and set somewhere off the Ferry Building. It got really light under the Bay Bridge, but there still seemed to be flood and we got through it okay. We kept the kite up almost to the last mark. The wind was forward of the beam, but it was not too strong and it worked fine for us, although my arms are sore from trimming."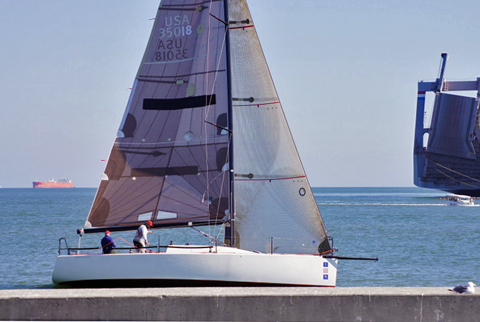 Dark and Stormy approaches the finish along the South Beach Harbor wall. ©2011 Steve Ripple/SSS
Jonathan Hunt and Rodney Hagebols on Dark and Stormy won Doublehanded overall with Max second. Greg Nelsen on his Azzura 310 Outsider came out on top in Singlehanded.

Greg Nelsen and his Azzura 310 Outsider won Singlehanded overall. ©2011 Stephen Buckingham
And for those who couldn't finish it looks like the final parking lot and the killer ebb in the last two hours of the race made it a long day.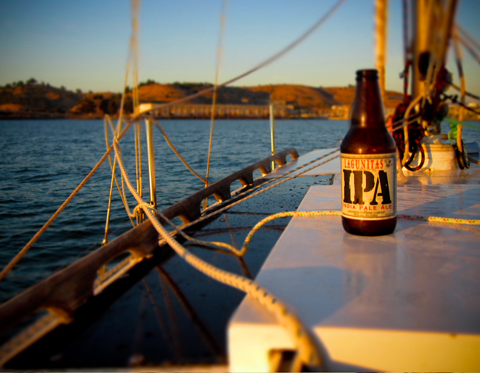 Starbuck can smell the barn. ©2011 Stephen Buckingham
Race committee volunteer Steve Ripple photographed all the finishes. You can see them on Picasa. Complete results by division and overall are available at www.sfbaysss.org. To see Tatiana and Max's tracks, and to check on the series standings, go to www.jibeset.net/JACKY000.php?RG=T001284322. Awards will be handed out a Oakland YC on Wednesday, September 28, at 1930 hours.