Our anonymous source, embedded deep in the Richmond YC race committee, reports on the activity last weekend at that busy club.
This was sort a low overhead fleet week: Wyliecat 30 Intergalactics with PCCs for the Ultimate 20s and Antrim 27s. Here's the finish committee on the RIB fending off Ultimate 20 Breakaway, their first of three 'hookers' for the day: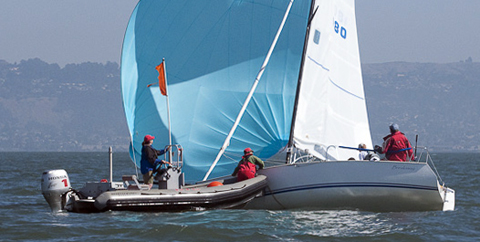 Breakaway had trouble 'breaking away' from the RC finish boat, and had to drop her spinnaker before getting untangled. ©2011 Erik Simonson/www.pressure-drop.us
They later fended off – "oh no not again!" – another Ultimate. The Ultimates were nothing compared to a heavier, faster Antrim 27 like Bryce Griffith's. When Arch Angel's keel hooked the anchor line the RIB took off on a Nantucket sleigh ride, albeit a short one. Later a couple of Wyliecats approaching too close were shooed off. A current was running down the start-finish line. Even with a ballast on the anchor line our finish boat made too tempting a target for those keels.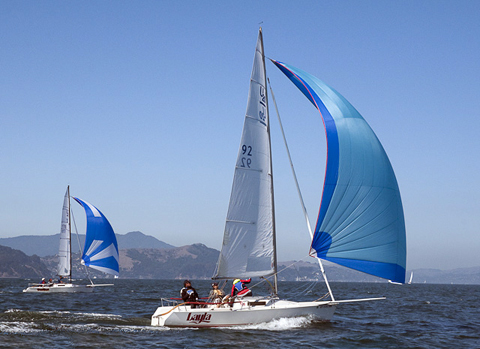 Layla looking lovely. ©2011 Erik Simonson/www.pressure-drop.us
Everybody had a ball on Saturday: three races with no waiting boom-boom-boom starts, a good three-four hours of sailing in really good 12-13 breeze and sun. Flying by were Snowbirds, B1 bombers and Angels (the other kind).
Seeing the Antrims planing downwind across the finish line was a hoot.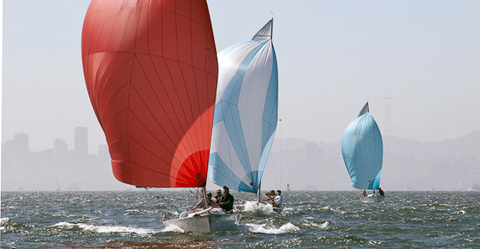 More Ultimate 20 action. ©2011 Erik Simonson/www.pressure-drop.us
One of the Ultimates had what they termed "erectile dysfunction" - they couldn't get the kite up or couldn't get it down. It's also possible they were having so much fun they didn't want to take it down.
Ultimate 20 winner Michael Eisenberg from down San Diego way with Toon Town loved the short chop and breeze. "We don't get this at home." Antrim 27 sailor John Liebenberg with his seasoned pros on Always Friday got challenged but won the day.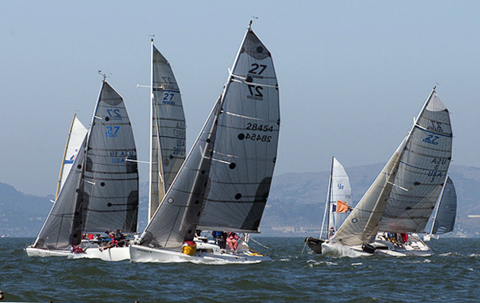 Four Antrim 27s on the startline. ©2011 Erik Simonson/www.pressure-drop.us
Three different Wyliecats got the gun. Steve Wonner's Uno won the series with scores of 2-2-1. Steve Seal and John Skinner were one point back on Silkye, and Russell Long was a point behind them.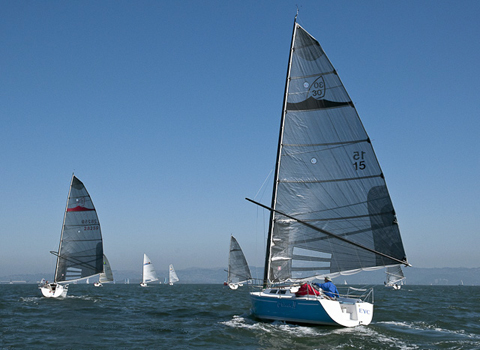 Wyliecat 30s Dazzler (left) and Crinan II. ©2011 Erik Simonson/www.pressure-drop.us
On Sunday, we didn't get off any races. We had a steady 2.6 knots with puffs to 3.5. With the contrails from the airshow standing still over the Cityfront, all the race committee could do was putt-putt through the fleet mooching cookies and some terrific brownies. By mutual agreement racing was abandonned at 1:30, so of course the wind filled a little after 2:00.

Awards were lead lofting ducks personally autographed by Tom Wylie and Jim Antrim. See www.richmondyc.org for complete results.

Richmond YC was a busy place last weekend. They also hosted
the Pacific Cup seminar, RYC Mommies dinghy sailing group, old I-14 sailors team races, and a 29er seminar. And on Sunday, more than 100 kids plus parents kicked off the Junior Program.