It was two-for-one night at the Singlehanded Sailing Society's Three Bridge Fiasco trophy meeting on Wednesday night. A discourse about the rules and breaking them served as Act I before the actual trophies were handed out. Max Crittenden, commodore of the SSS, started the meeting out by explaining the observed infractions and telling tales of bad sportsmanship. Some of the complaints are: sailing into restricted zones and not retiring (a lot of boats did this), still motoring one minute before starting, three people on doublehanded entries (Synthia Petroka mentioned seeing this last year too) and a general sadness for what seems to be a lack of honesty and fairness among some competitors these days.
After the lecture Act II started with the presentation of trophies. The Fiasco attracts many boats and just finishing is a reward some years, but the main goal for a lot of the top sailors from Northern California (and beyond) is the first overall singlehanded or doublehanded trophy. This year the singlehanded trophy went to Dan Benjamin on the Wyliecat 30 Whirlwind. His strategy for winning? "I didn't do anything brilliant, just tried to sail smart." And he went the right way this year, which was clockwise.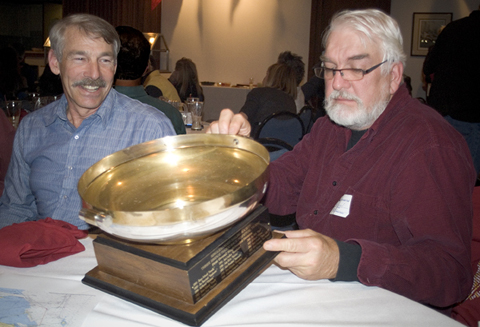 Fellow Wyliecat 30 sailor Al Germain (right) checks out Dan Benjamin's (left) trophy. ©2012 norcalsailing.com
In the doublehanded division, the D-class catamaran Rocket 88 with Brendan Busch and Ian Klitza rocketed their way around the course the wrong direction but came out ahead of second place BridgeRunner by 30 seconds. "We bucked the trend and went counter-clockwise, and it worked for us," remarked Brendan. Rocket 88 won doublehanded overall last year also which is pretty remarkable.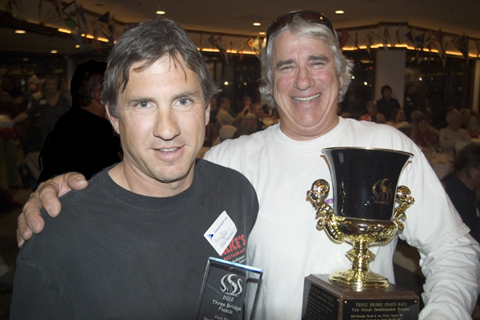 Brendan Busch and Ian Klitza with their booty. ©2012 norcalsailing.com
In all the years the Fiasco has been run, the top boats have been a mixed group: fast cats, slow small boats and medium cruisers have all claimed the top prize. It's the type of race that should bring out the best in us no matter what we sail.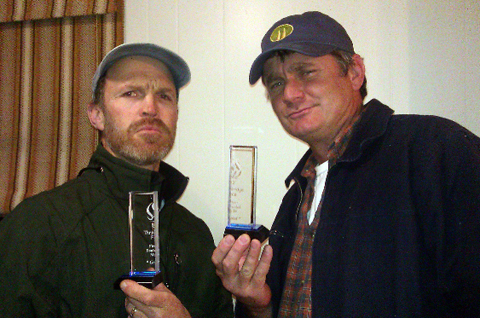 Bart Hackworth (left) and Simon Winer won the 30-strong Moore 24 division, but couldn't agree on who got to keep the single award. Photo Courtesy Simon Winer
See www.sfbaysss.org for complete results. Be sure to see our race report, and our photo gallery. The next race in the SSS season is the Corinthian on April 7.