While a lot of Bay Area boats were enjoying the Big Daddy Regatta at Richmond YC, some were down south across the border for MEXORC in Puerto Vallarta.
Three boats stuck around after the San Diego to Puerto Vallarta Race: Ocelot, Kevin Flanigan's Alameda-based Wylie/Kernen 44; Serena, David Kuettel's Tiburon-based Thompson 1150; and J/World's Hula Girl, a Santa Cruz 50, which now lives in San Diego but was a Santa Cruzer for a while.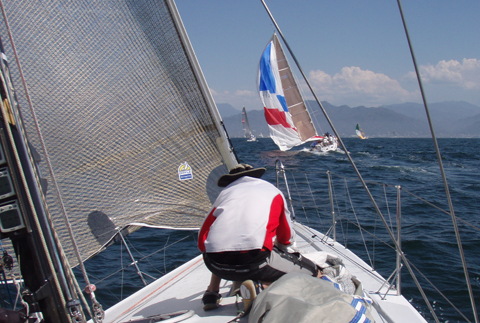 Ocelot tries to make up time on Hula Girl after an over-early. ©2012 norcalsailing.com
But only two of them were able to race on Sunday, as Serena broke a forestay on the way down in the SD-PV race. Co-owner David Van Houten told the story: "We were having such a great race, then about halfway down Baja we heard a bang and the forestay came crashing down on the deck. Luckily we were able to save the mast and secure things before deciding to head to Magdalena Bay for repairs. But the one problem was we didn't have enough diesel to make it into the bay, so we flagged down a passing fishing boat and bought enough fuel to make it to San Carlos. While dreading the long trip threading our way into Mag Bay and up into town, we noticed in one of our cruising guides that they have a delivery service out to the coast. So we anchored out in a beautiful cove and had fuel, beer and fish tacos delivered to the boat."

Serena serenely waits for the epoxy to cure on her mast track. ©2012 norcalsailing.com
And their trip ended in PV waiting for a local rigger working on a new stay. They will miss the two first races, but plan to be out racing by Tuesday. Ocelot and Hula Girl will be battling it out on Monday and Tuesday for California bragging rights without them in the light but building afternoon breezes. It's just like the Bay but warmer.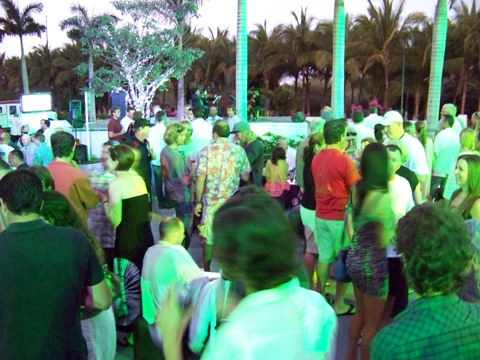 Green disco lights illuminate green racers at the kick-off party. ©2012 norcalsailing.com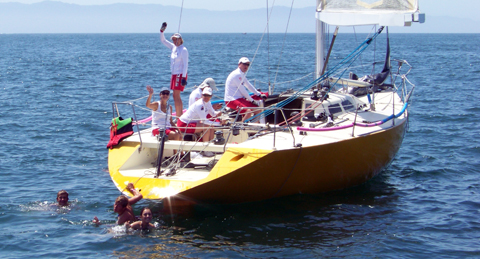 Some of the crew on Chivos take a dip while under postponement. ©2012 norcalsailing.com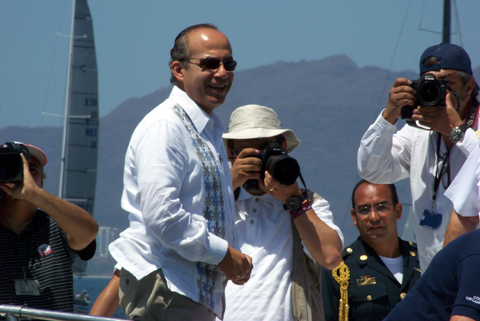 Presidente Felipe Calderon waves to the boats while waiting for the first gun. ©2012 norcalsailing.com

The all-chica team on Laura Legorreta's Capri 37 Dreadnought. ©2012 norcalsailing.com
See www.mexorc.com. And go here for our midweek MEXORC report.