Sausalito YC Auxiliary moved their Women Skippers Regatta up from October to April this year. We're not sure if this was a good idea, as April 14 was heavily booked with a long list of races, and the turnout at SYC wasn't as healthy as in recent years. The seven crews who did sail enjoyed a sunny day and a range of conditions for three races west of Angel Island.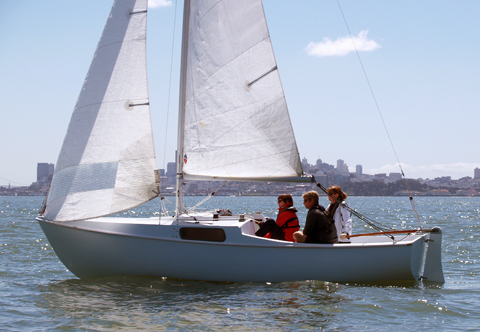 Sally Clapper skippered the Cal 20 JustEm. ©2012 norcalsailing.com
The race committee had drop-mark windward-leewards and fixed mark courses in their quiver. For the first race, they chose a double sausage, from the race committee boat close to Angel Island to a windward mark set about two-thirds of a mile to the west. The ebb was strong and the wind negligible, so Race 1 took a while to finish.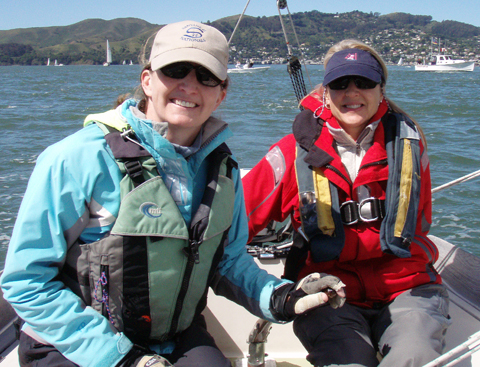 Jennifer McKenna and Suzanne Lee aboard Jennifer's Santana 22 Zingaro. ©2012 norcalsailing.com
By Race 2, the wind had picked up, but the RC chose a single sausage course in order to leave time for a longer Race 3, which sent the fleet across the Bay to Blackaller Buoy off Crissy Field (the yellow permanent mark is back on station). As the boats rode the ebb on a close reach to the Cityfront, the sailors could watch the Clipper Race start off Golden Gate YC. Once around the windward mark, they surfed the big swell back to Pt. Knox Buoy and then had a short one-tack beat to an upwind finish.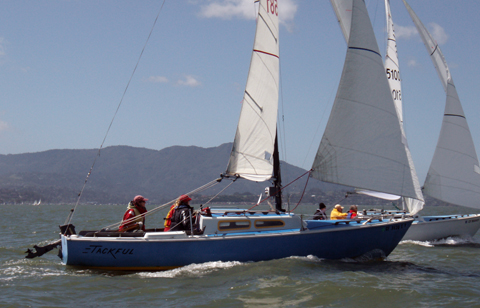 Two of the Tunas, Cathy Stierhoff's Tackful and Shirley Bates' Inshallah, gave each other tough competition. ©2012 norcalsailing.com
Sausalito YC hosted a free continental breakfast in the morning, first for the departing Bullship racers, and then for the WSR crews. After racing they served up free wine and beer, live music, a barbecue, and awards. Leah Pepe, sailing Pat Broderick's Wyliecat 30 Nancy was the sole spinnaker division entry. Sally Clapper on the Cal 20 JustEm won the non-spinnaker division. Cathy Stierhoff's Santana 22 Tackful was the first place all-female crew.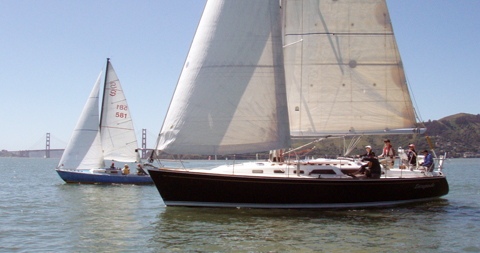 Tackful and the Sabre 402 Escapade, helmed by Renee Linde, in the light air stuff. ©2012 norcalsailing.com
For more, see www.sausalitoyachtclub.org.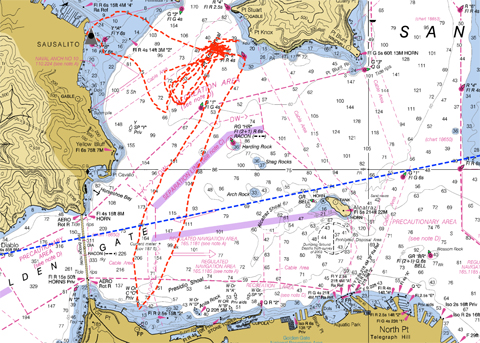 The red line shows Zingaro's GPS track in the three races, plus a stop at Sausalito YC. ©2012 norcalsailing.com