Berkeley YC's Bobbi Tosse filed this report:
Racing on the two days of April 21 and 22 seemed like racing in two completely different seasons rather than just two different days. Saturday, the 21st was warm, with clear skies, very light air at the start of the day and 'brochure' perfect winds of about 15 knots in the middle of the day. The conditions evoked memories of early spring or fall. There was enough breeze to fit in three races for all seven divisions.
Saturday actually consists of three different events: the Wheeler, the City of Berkeley and the Nimitz, with an overall trophy for each. The Wheeler is run in the deep water of the Central Bay with a start north of the end of the Berkeley Pier. This year, 20 entrants were divided into two PHRF divisions plus the Express 37s.
Division A had close racing, especially between the two boats equally rated at -12. In fact, the corrected time spreads of the whole Division of 7 boats never exceeded 6 minutes. That's closer together than many one designs! When all was done, John Clauser's 1D 48 Bodacious+ was first, Peter Krueger's J/125 Double Trouble was second and Daniel Alvarez in his JS9000 JetStream was third.
With three bullets in three races, Bob Harford's Stewball dominated the Express 37s, followed by Bartz Schneider in Expeditious and Jack Peurach in Elan.
Division C, the third of the three divisions in the Wheeler, had nine contenders. In the three races, three different racers got a first. In the end, the first went to George Ellison in his Schumacher Custom 30 Shameless. Second and third places were tied in points but Ed Durbin's Beneteau 36.7 Mistral had more seconds and thus got second place.Third went to Andy Newell's Santana 35 Ahi.
The overall Wheeler was won by Bob Harford in Stewball.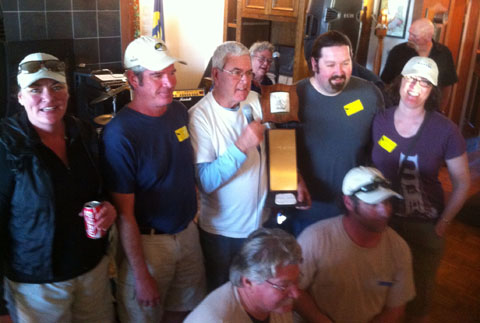 The Stewball crew, with skipper Bob Harford in the center holding the mic and the trophy. You can just spot BYC's Bobbi Tosse behind the trophy. ©2012 Berkeley YC
The City of Berkeley is run down on the Berkeley Circle. It is designed for slower-rated boats, and thus we can go with shorter courses and still get three races in. We finish their third race at the yacht club. This means that the smaller and so-called slower boats are first to the oysters and shrimp and margaritas and beer. This year we had 22 entrants in three divisions – Olson 25s, Santana 22s and a PHRF Division.
There were five Olson 25s and again we had a boat with three bullets. Mark Simpson's Shadowfax cleaned all the clocks. Second went to Steve Smith's Synchronicity and third to Falk Meissner's Shark on Bluegrass.
The PHRF Division had a huge handicap range of 129 seconds per mile, but amazingly, the corrected time range was never more than 4 mins. 34 secs. Again, we had a tie in points. With more firsts, Richard von Ehrenkrook in his very recently repaired Cal 20 Can O'Whoopass took first and Robert Schock's Newport 30 Achates had to settle for second. Michael Yovino-Young's Ranger 33 Boogie Woogie gathered third.
New for us this year was a healthy number of Santana 22s. Eight showed up for their 'white sail' series. They also enjoyed close racing and position swapping. First in this group was Anna Aldercamp's Byte Size, second was Jennifer McKenna's Zingaro and third went to Frank Lawler's Tackful.
The overall City of Berkeley trophy went handily to Mark Simpson in his Olson 25 Shadowfax.
The third event of the day was the Nimitz. This trophy is only in its second year and is vied for by multihulls. This year five entries showed up to reach around specially designed courses. The same committee boat as the City of Berkeley was used, and the multihulls' third race also finished at the yacht club. There was just one division and the first went to Ross Stein in his F-24 Origami, second place went to Pete Adams's F-24 Mk II Gaijin and third was won by Bill Roberts in his Corsair 31 Emma.
Sunday was the Pursuit race. As I mentioned at the very beginning of this report, racing on Sunday was like racing in a completely different season than the Saturday events. Sunday saw steady 25-30 knots, socked-in fog and very lumpy conditions. The course was from a start at FOC on the Circle to Harding Rock, then Blossom Rock and then down to a temporary turning mark and back to FOC to finish, for a total of 10.1 miles. As we slogged out to the start, we anticipated quite a few DNCs, but surprisingly there were 20 starters out of the 33 entrants and only 2 DNFs.
With the kind of slop that prevailed, it was definitely a big boat day. Bodacious+ clawed through almost all the boats by the Harding buoy and was leading until just after the jibe at Blossom. Then, the not-dead-downwind leg from Blossom to the temp buoy in 25+ breeze and lumpy water, the J/125 Double Trouble flew on by and ultimately finished first of the monohulls, followed by Bodacious+, Stewball, Richard Courciers's Farr 36 Wicked and Steve Hocking's Beneteau 45f5 Ohana. Emma was the first multihull.
– Respectfully submitted, Bobbi Tosse, BYC Race Person