The first annual Phyllis Klienman Swiftsure Regatta was run over the weekend at the St. Francis Yacht Club on the Cityfront. Actually it's a new name for the Frank Stone Cup that has been a racing fixture over the years for IRC and one design boats. Over two days of windy conditions for eight boats in IRC and 19 J/105s, the race committee ran six races total on windward/leeward courses. Well, about as windward/leeward as can be with a good current running.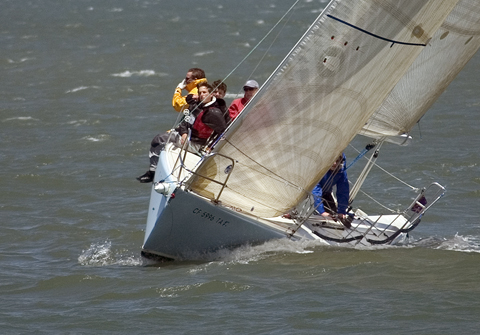 Trig Liljestrand's J/90 Ragtime looked small next to the other IRC boats. ©2012 norcalsailing.com
In the IRC class a mixture of big and small boats ranged from John Clauser's 1D48 Bodacious+ down to the little J/90 Ragtime, and the winner was Dan Woolery's King 40 Soozal, which ran away twelve points ahead of second place TNT, Brad Copper's Tripp 43. In J/105s Scooter Simmons' Blackhawk squeeked out a first place over Bruce Stone's always competitive Arbitrage by one point. Third place went to Jason Woodley and Scott Whitney on Risk, who were only three points behind Arbitrage.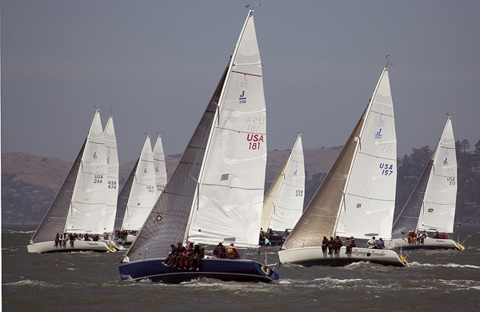 An upwind cluster of J/105s. ©2012 norcalsailing.com
Race 6, held in 25 knots of breeze on Sunday afternoon proved too much for most of the IRC boats, as only two finished, and two boats suffered major damage. The top of TNT's mast sheared off during the last leg of the race, and the eponymous Swiftsure lost her rudder, resulting in an inpouring of seawater. Meanwhile the J/105s were having a fast ride, one even reporting 15 knots of boatspeed during a spinnaker reach.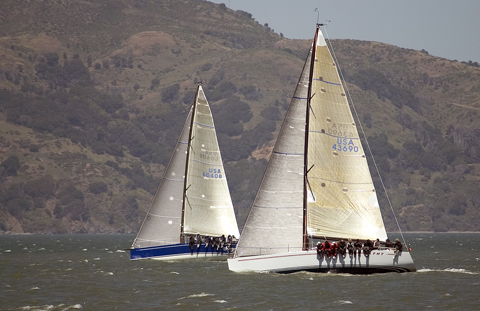 The top finishers in IRC, Soozal (left) and TNT. ©2012 norcalsailing.com
Results can be found at www.stfyc.com. Besides beer, the sore and tired racers got to enjoy a fog-free eclipse after the racing on Sunday.