Corinna Stolp submitted the following report:
You just can't keep a good boat down! Fourteen Santa Cruz 27s were on the line June 29-July 1 at Richmond Yacht Club for their 2012 Nationals. The competition was fierce, with protest flags flying and two general recalls in the last race on Sunday. It was more than exciting, and I wouldn't have expected anything less from this highly competitive fleet!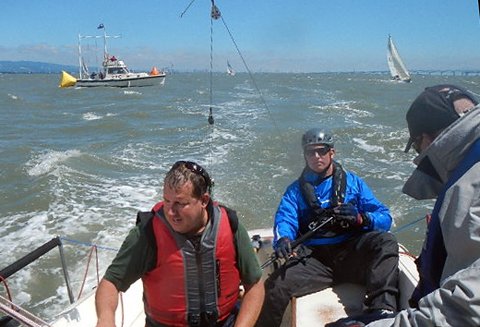 In between starts aboard Shibumi. It was a bit wet and wild the first day. Left to right: Roy Haslup, Michael Irish, Peter Leib. ©2012 Michael Irish
One of those 14 boats on the line was Shibumi, owned by Michael Irish. Michael decided in January that he wanted to commit to the Nationals in June. Normally, this wouldn't be such a big deal, but let's just say that the boat was not even close to "race ready." Six months of preparation, and we were still drilling into the mast the day before. We applied the name to the boat that night and she was ready to go. Nationals would be the true test as we had never raced Shibumi next to another SC27 yet and had no idea if we had a fast hull or not.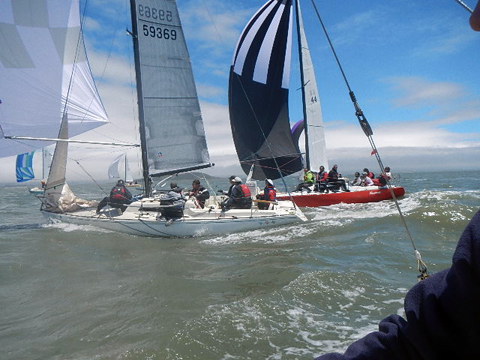 Tight fleet racing on day 3. This is Giant Slayer (white boat) and Rocinante (red boat). ©2012 Michael Irish
We knew we were in for a ride when we hit 13.7 knots downwind practicing in Berkeley Circle the day before Nationals. Winds were in the high 20s to low 30s. I had visions of our brand new kite exploding, but luckily that didn't happen. You can imagine our excitement on the first day of racing when we were the third boat to the windward mark in the first race! The fact that we had boat speed was an incredible relief. Did I mention that the boat is wet-sailed?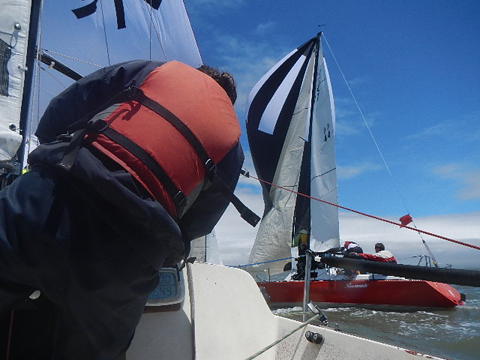 Rocinante is flying a protest flag (not for Shibumi). ©2012 Michael Irish
RYC did a great job of mixing it up. We had some starboard roundings that caused a bit of excitement. At least one collision resulted in major rig damage. Most of the races were short course buoy races and then there was one distance race with some long reaching legs. Kites were flying tight on the second reaching leg, and it was a battle to the end.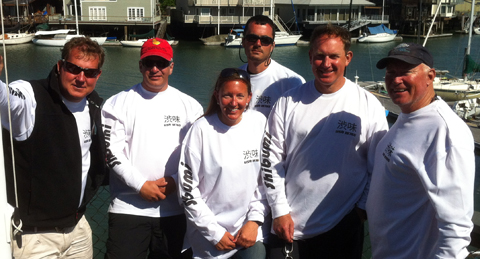 Team Shibumi, left to right: Roy Haslup, Dave Herrigel, Corinna Stolp, Brian Leigh, Michael Irish, Peter Leib. ©2012 Corinna Stolp
Shibumi didn't quite make it to the podium in her first Nationals, however I can guarantee you our crew felt like we won the gold with at least one finish in the top five. Overall, we placed eighth out of 14 in our first fully crewed one design regatta, and we had more fun than should be legally allowed. We are so excited about the boat's potential for next year! Thanks to the SC27 fleet for being so welcoming and helpful. Congratulations to the top three winners: Gotcha, Furthur and Hanalei.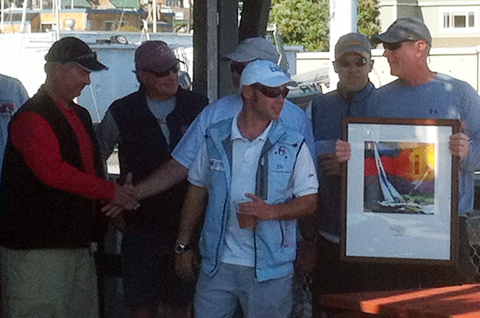 Joe Hagen and John Ross of Gotcha are the new national champions. ©2012 Corinna Stolp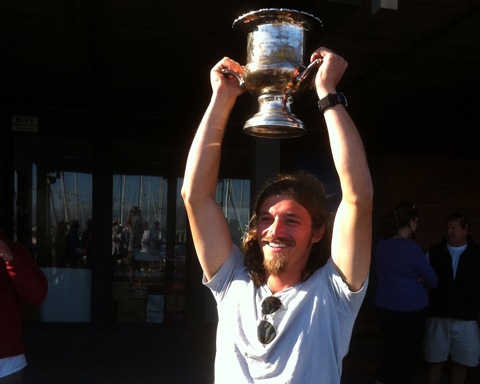 Pacific Cup vet James Clappier of Furthur got second. ©2012 Corinna Stolp
The 2013 Nationals will be in Santa Cruz, and we can't wait! A huge race week is being planned, including all other boats built in Santa Cruz.
- Corinna Stolp, Team Shibumi
Full results are on Regatta Network. See also www.sc27.org.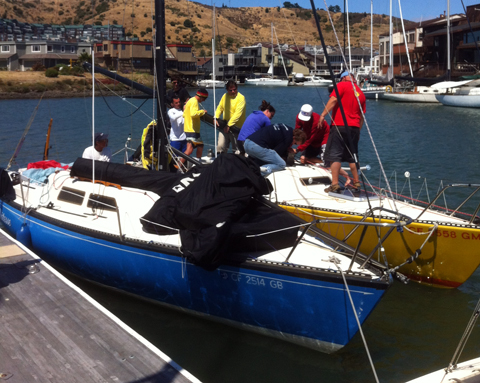 Saffron (yellow boat) lowered her mast while rafted up to Vitesse. ©2012 Corinna Stolp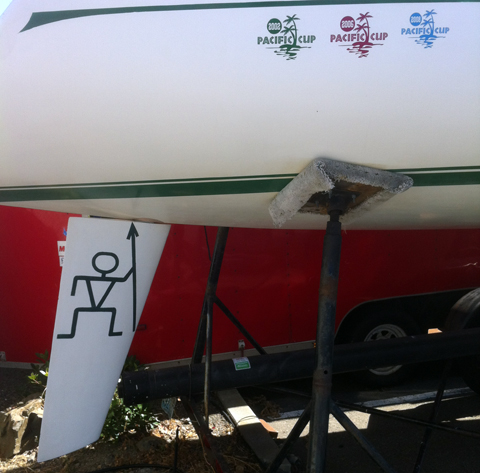 Giant Slayer's rudder art and PacCup stickers. ©2012 Corinna Stolp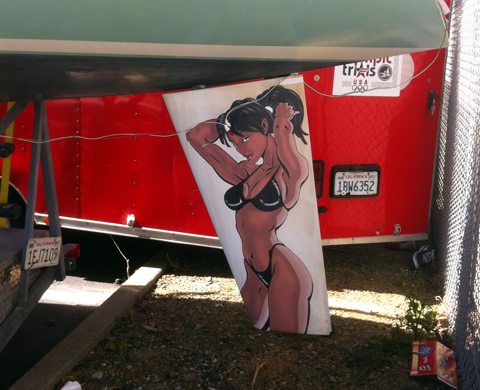 Jersey Girl's rudder art. "The boys really liked this one out of the water!" said Corinna. ©2012 Corinna Stolp