The Richmond Yacht Club connection to this year's Pacific Cup is strong, with eight member boats racing to Kaneohe, Oahu. Some, like Dave Rasmussen's Synergy 1000 Sapphire, Buzz Blackett's Antrim Class 40 California Condor, and Tony English on the Antrim 27 E.T. have done the race before.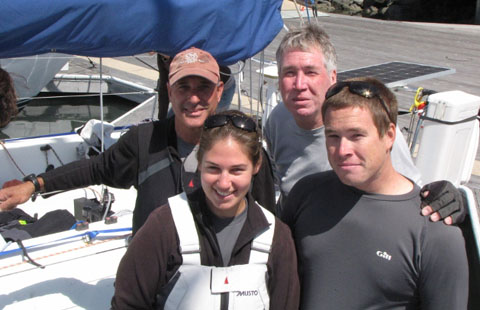 The Sapphire crew: Phil Krasner, Kelsi Schoenrock, David Rasmussen (skipper and dad), and David Rasmussen (navigator and son). ©2012 Richmond YC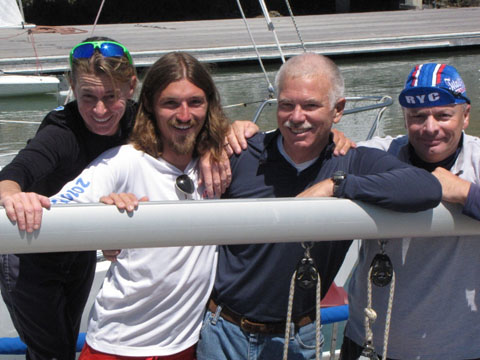 The crew of the Antrim 27 E.T.: Sherry Smith, James Clappier, skipper Tony English and navigator Simon Bell. ©2012 Richmond YC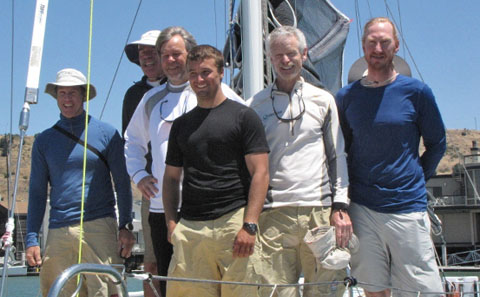 The crew of California Condor: Paul Cronin, sailmaker Kame Richards, designer and navigator Jim Antrim, David Liebenberg, skipper Buzz Blackett, and Brent Draney. ©2012 Richmond YC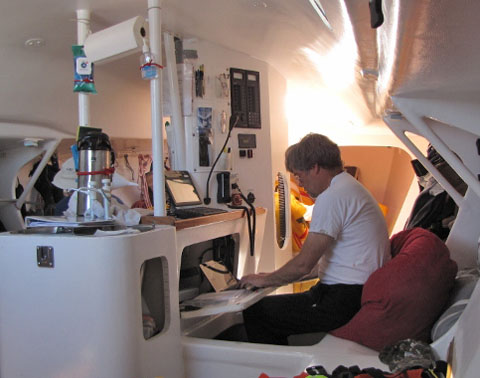 A look down below aboard California Condor shows a highly functional, unglamorous interior, with Jim Antrim at the nav station. ©2012 Richmond YC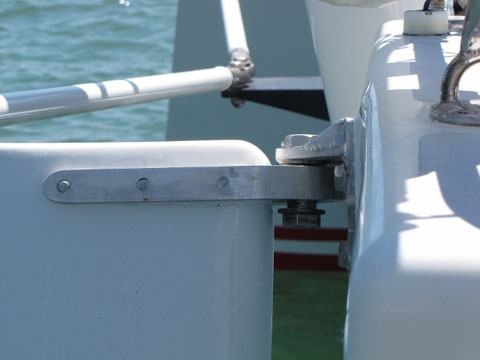 Two years ago, California Condor broke both rudders on her maiden Pacific Cup. This year their fittings have been beefed up. ©2012 Richmond YC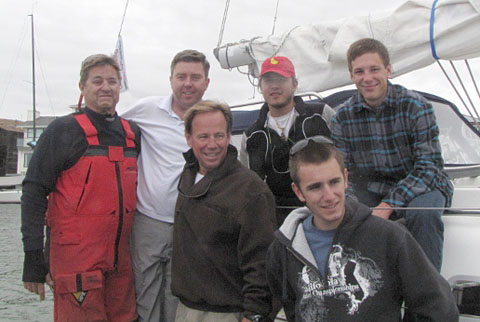 The crew of Gary Troxel's Beneteau 423 Tiki Blue: Mark Howe, Rune Storesund, Tyler Troxel, Ryan Troxel and Alex Knox. ©2012 Richmond YC
RYC has a club trophy called the Pacific Cup Mai Tai Trophy to be awarded to the top club boat. After last week's slow starts, the boats are all now running with chutes up.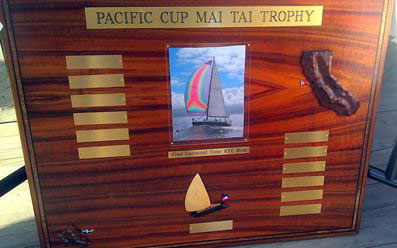 Richmond YC's trophy for First on Corrected Time. ©2012 Richmond YC
As of Sunday night, California Condor is in front of the RYC fleet, while the J/120 Jamani is closest to Hawaii with 1,313 miles to go, and Corinthian YC entry Double Trouble appears to be leading on corrected time. E.T. is currently first in their division, while Tiki Blue, Lightspeed, and Split Water are first, second and third in their division, in that order.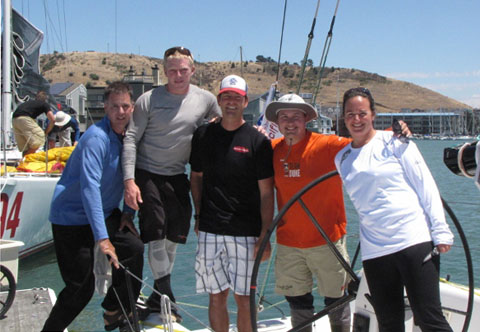 Andy Costello and his J/125 Double Trouble crew: Trevor Baylis, Matt Noble, Skip McCormack and Jody McCormack. Skip and Jody doublehanded in 2010 in their Farr 30 Trunk Monkey. ©2012 Richmond YC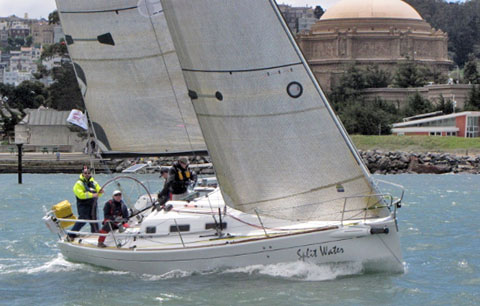 Split Water, David Britt's Beneteau First 10R, at the start. ©2012 Richmond YC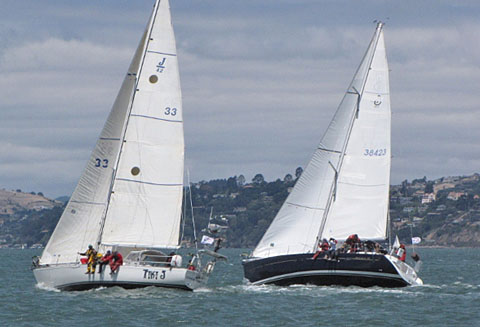 Tiki J, the Worsham family's J/42. and Tiki Blue at the start. Last year, Tiki Blue had to drop out and turn around, but now they're about a third of the way to Hawaii. ©2012 Richmond YC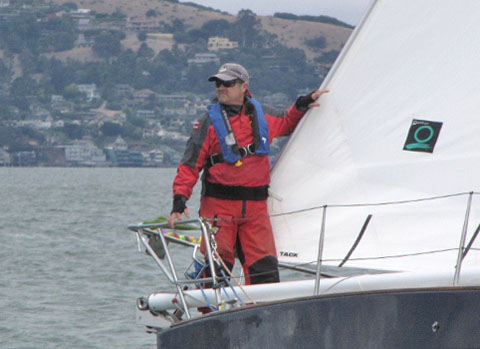 Navigator Mark Howe on the bow of Tiki Blue. After last time's wet-butt-itis aboard his own boat, the Farr 36 ODR War Pony, he'll have a more luxurious ride on the big Beneteau. ©2012 Richmond YC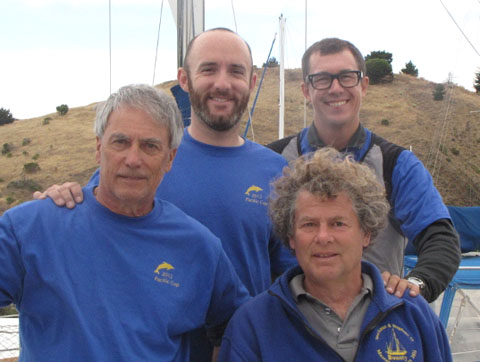 The Lightspeed crew: Rich Elkins, navigator Paul Kamen, Jacob Wenegrat, and Noah Peffer. ©2012 Richmond YC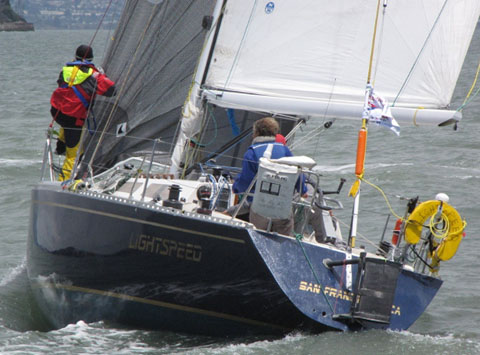 Lightspeed at their start on Tuesday. ©2012 Richmond YC
Lightspeed, the Olson 34 Temerity, sailing doublehanded with father and daughter David and Annika Nabors, and Jay Spalding's SC52 Medusa are all competing for the Team Trophy representing the Singlehanded Sailing Society.
See http://www.pacificcup.org for everything you need to know.