On Friday, l'Hydroptère DCNS, the French 60-ft planing trimaran which is visiting San Francisco while waiting for a weather window to attempt a Los Angeles to Hawaii speed record, set the first certifiable one-mile sailing speed record for San Francisco Bay. A race committee under the authority of the Yacht Racing Association and the Bay Area Multihull Association declared a preliminary one-mile speed record of 37.5 knots based on visual timing that will be certified on analysis including GPS.
The race committee set a one nautical mile course angled between the Golden Gate Bridge and Alcatraz Island, in winds of 16 knots gusting to 20. The beginnings of an ebb current kicked up tight, square waves. These are conditions which San Francisco sailors know well. The boat made five passes at a record run between 2:00 p.m. and 3:45 p.m. The second run was fastest. The third run was threatened by a large excursion boat that did not give way.
French skipper Alain Thébault was joined by Yves Parlier and Jean Le Cam, his long-time co-skipper and expert ocean racer Jacques Vincent, boat captain Warren Fitzgerald, and the world's fastest sailor, kiteboarder Robert Douglas, who holds the outright sailing speed record of 55.35 knots (which was set on a special speed track in Namibia).
"When we learned there was no formal sailing speed record on this extraordinary bay, we knew we must see what we could do," said Thébault.
US Sailing Certified Race Officer Eric Arens of Richmond YC served as race officer, and Bob Naber of Alameda, an officer of both YRA and BAMA, was official observer.
After setting the record, Thébault and his men took part in the Ronstan Bridge to Bridge Race, which is organized by the St. Francis YC as part of the International 18-ft Skiff Regatta. For safety reasons, l'Hydroptère DCNS was not actually entered in the race and set off a few minutes before the official start for windsurfers, kiteboarders and skiffs.
Thébault has held the outright sailing speed record of 50.17 knots for one nautical mile since 2009.
- Paul Oliva via Pressure Drop, with norcalsailing.com
For more on the adventures of the world record-busting foiler, see hydroptere.com. For more on last week's Nespresso International 18 Skiff Regatta and the Ronstan Bridge to Bridge, see www.stfyc.com.
US Sailing named Jon Andron of St. Francis YC Sailor of the Week at the end of August in recognition of his ride aboard Artemis Racing Team - Red's AC45 during the AC World Series on San Francisco Bay.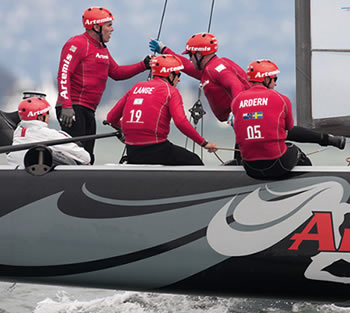 Artemis Red with guest crew Jon Andron aboard. ©2012 Gilles Martin-Raget/America's Cup
In the 1970 America's Cup, Andron served as the foredeck boss on Intrepid. He's a former 5o5 North American Champion and has competed in 15 Transpac races, including several with Stan Honey. "I've raced with Dennis Conner, Lowell North and others before top level yacht racing became professionalized," said Andron.
Commenting on racing on the AC45 catamaran, Jon said, "These boats are not designed for anyone to ride on. "The trampoline is narrow in the back and it's a trick not to fall off. Although the ride was smoother than I expected. We were going about 20-30 knots, and I noticed how the boat accelerates, similar to how a car accelerates at a traffic stoplight."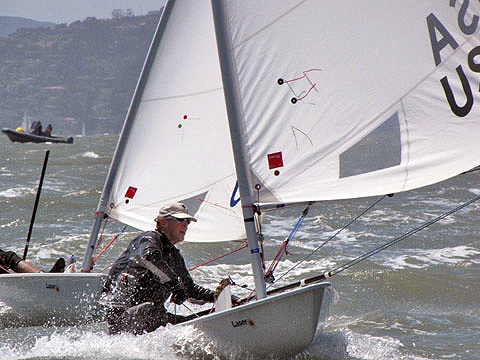 Jon Andron, seen here racing in July's Laser Master NAs at RYC, is well known and liked in the local Laser fleet. ©2012 Richmond YC