In today's Race 1, the multihulls and IRC divisions are sailing on the Cityfront Course, while the one designs sail on the North Course. The racers have been enjoying nice flat water in a building flood, and a cold, clearing westerly of 12 knots for the first race. Here's what the first race looked like from shore:

Urs Rothacher's SL33 BridgeRunner tacks up the Cityfront in Race 1 of Rolex Big Boat Series. ©2012 norcalsailing.com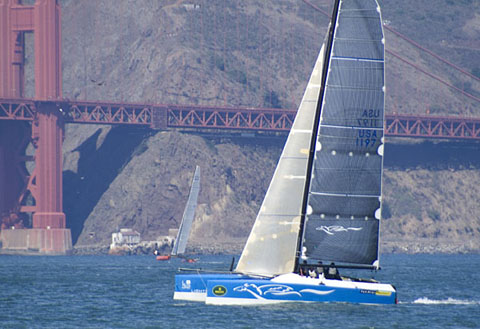 Camera phone inventor Philippe Kahn is sailing the Lightspeed 32 Pegasus-MotionX. ©2012 norcalsailing.com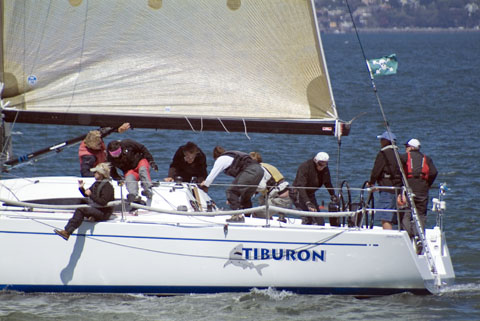 Steve Stroub's Santa Cruz 37 Tiburon is sailing in IRC C / HPR. ©2012 norcalsailing.com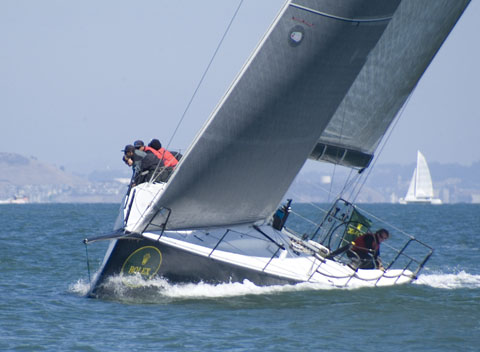 Here comes Rio. The wind had not yet built to typical San Francisco velocity, but the crew was already hiking hard. ©2012 norcalsailing.com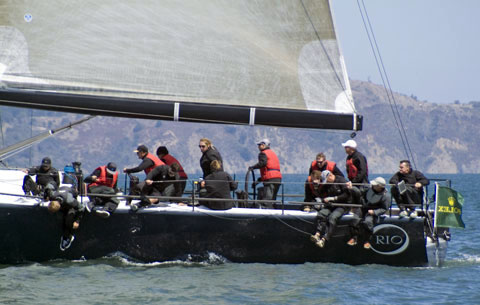 Rio throws in a tack right in front of St. Francis YC. ©2012 norcalsailing.com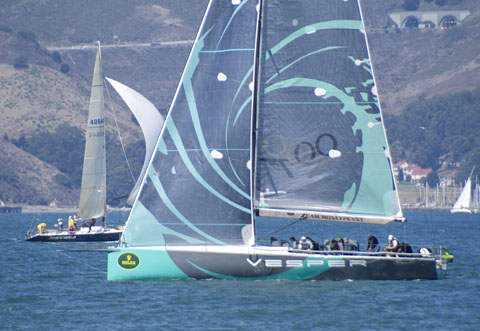 Jim Swartz's James Bond-motifed TP52 Vesper sails an upwind leg. Henry King's IRC D Frers 40 Jeannette and Marin County's Waldo Tunnels can be seen in the background. ©2012 norcalsailing.com
Some results for Race 1 are already posted at www.rolexbigboatseries.com/results-alt/results-race-1.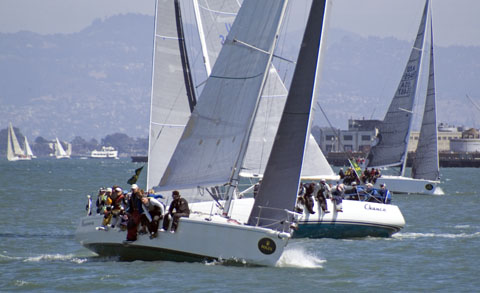 The J/120 fleet short-tacks up the Cityfront. ©2012 norcalsailing.com
For the second race, a bit of Bay chop is whipping up some little white caps. The wind has built to as much as 20 knots. The IRC and one design divisions have switched places, with the multihulls staying on the Cityfront. But all of them end their afternoon in front of the club for a spectator and camera-friendly finish on this picture-perfect day.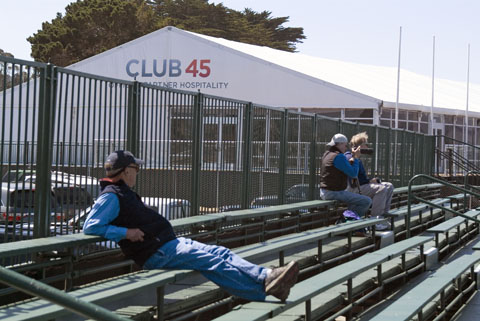 These bleachers in the harbor parking lot offer excellent viewing for all. As you can see there's plenty of space, and they're not gated off. ©2012 norcalsailing.com
Follow along at www.rolexbigboatseries.com. The home page includes streaming video, produced by Jeremy Leonard and friends.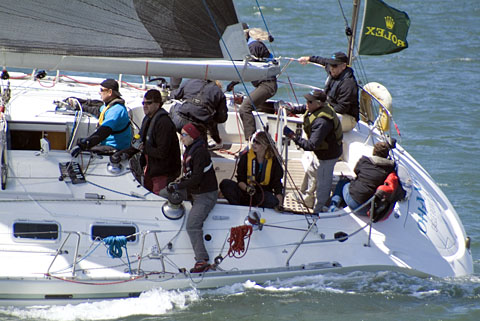 Steve Hocking's Beneteau 45f5 Ohana is sailing in IRC D. ©2012 norcalsailing.com
The race committee expects a little south in the breeze and more pressure tomorrow – typical San Francisco summer conditions.