The 48th Rolex Big Boat Series gets underway today at St. Francis YC, with racing on the Cityfront and on a 'North Course' north of Treasure Island. This year for the first time, high performance catamarans have been invited. It was uncertain that enough would sign up to make for a good-sized division, so one trimaran was allowed in as well, Stephen Marcoe's Gougeon/Gardiner 34 Cakewalk. Six cats signed up, so that division has seven boats.

Cakewalk, a tri among cats. ©2012 unknown
"I love catamarans," said StFYC Commodore Peter Stoneberg. "You just can't beat the thrill and adrenaline of racing them on San Francisco Bay, and this year's Rolex Big Boat Series will be the first premier class regatta that includes a catamaran division." He'll be racing his own ProSail 40 Shadow. Today, the cats run up and down the Cityfront, a treat for spectators.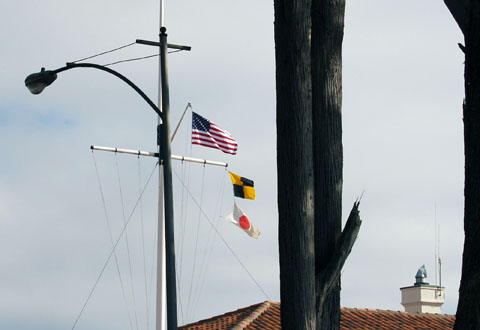 The flags flying off the clubhouse yardarm mean that one Notice to Competitors has been posted. ©2012 norcalsailing.com
Another new division, which contains some old favorites, is the High Performance Exhibition Class, aka "Fast Forties", aka IRC C. Three J/125s, the ID35 Alpha Puppy, the Santa Cruz 37 Tiburon, and the Farr 400 Rock & Roll make up the division. We remember not too long ago when enough ID35s showed up to make their own one design class.
IRC is using RBBS as their North American Championship. Among the fleet is a newcomer to the Bay, the Southern Cross 52 Meanie, ex-Vela Veloce from the East Coast, racing in the six-boat IRC A. Thomas Akin of Sausalito is the new owner, and Jeff Thorpe of Quantum Sails is onboard.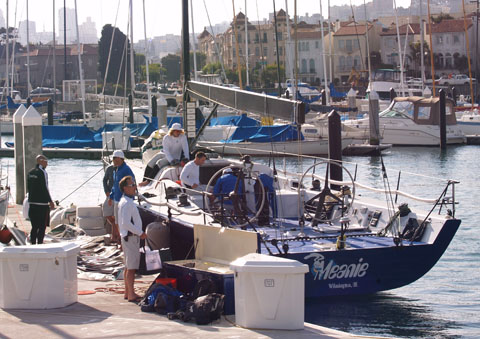 We'll be looking out for this blue Meanie. ©2012 norcalsailing.com
Also in IRC A, Dan Coleman of Tiburon is sailing his RP 44 Tai Kuai, which he acquired over the winter. John Clauser's ID 48 Bodacious+ and Sy Kleinman's 54-ft Schumacher Swiftsure II are local regulars. Visiting boats of note include Rio, Manouch Moshayedi's TP 52 from SoCal, and sistership Vesper, belonging to StFYC member Jim Swartz of Utah. We'll have more on other divisions in future posts.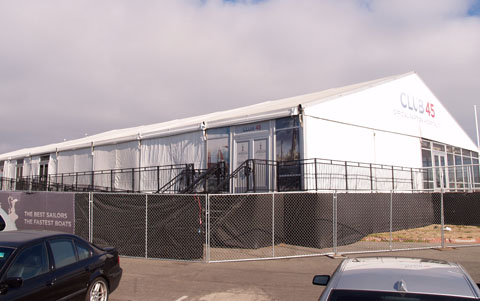 The America's Cup Club 45 is taking up a section of the harbor parking lot. In order to accommodate the cars of crew and media personnel, this event has arranged for parking at the Presidio's Sports Basement, and a shuttle bus. ©2012 norcalsailing.com
It's a beautiful morning here, with clearing fog leaving a mostly sunny sky. The Bay chop is behaving itself; the tide is slack going to a flood. A moderate westerly is blowing, and all indications are for excellent racing conditions.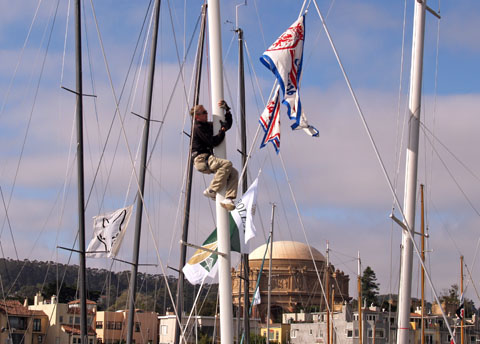 A last minute trip up the mast. ©2012 norcalsailing.com
We'll stick around and bring you more from the San Francisco Cityfront. In the meantime, see www.rolexbigboatseries.com.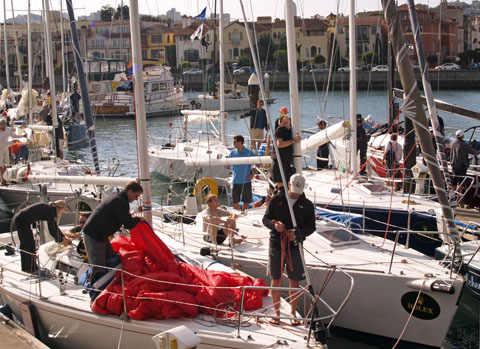 Getting the spinnaker ready. ©2012 norcalsailing.com