Where else can you go that has kids and adults sharing the race course in boats that are everything from elderly woodies to the newest totally rad carbon fiber boats? Totally Dinghy of course. Richmond Yacht Club set up two courses and two days of racing last weekend, and the weather cooperated enough to give out some sunshine and just enough wind for 11 total races.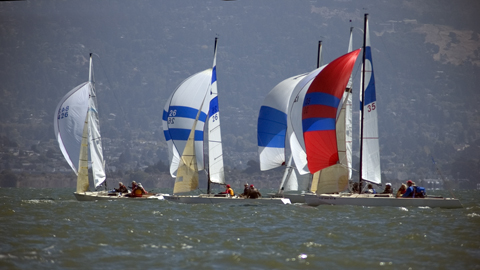 Wylie Wabbits are among the keelboats included in RYC's dinghy races. ©2012 norcalsailing.com
Potrero Reach was the place to be for the El Toros, Bytes and other smaller boats but bigger or faster boats had a course just north of the Southampton Light to play around on, with everything from Wylie Wabbits, Aussie 18s, Nacra and Hobie cats, and one foiling Moth thrown into the mix, it was an eclectic bunch, but everyone agreed it was a great weekend out on the Bay.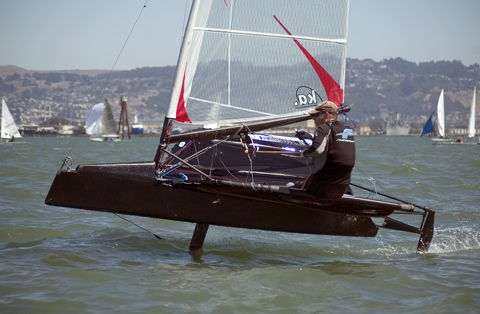 This Moth took flight on each race leg. ©2012 norcalsailing.com
"The wind was a little light at the leeward mark," said Aussie 18 skipper Katie Love of Saturday's racing. "We don't go very well trying to balance the boat in the light stuff."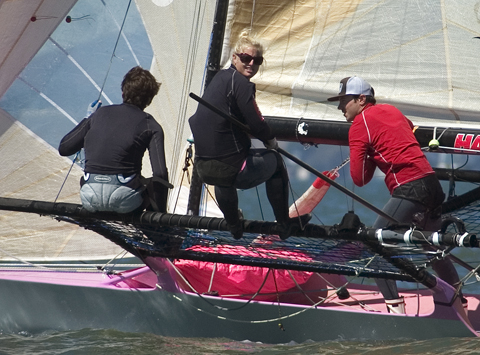 Katie Love and crew. ©2012 norcalsailing.com
Veteran Snipe racer Vince Casalaina added, "Snipes do very well in changing conditions. We just loosen everything up when it gets light." The conditions on the Southampton course ranged from 15 knots of wind at the windward mark to three knots at the leeward mark. And the race committee threw in some reaching legs to add to the fun.

Ryan Anderson and the Laser fleet approaching the leeward mark. ©2012 norcalsailing.com
"Reaching legs, remember those?" said Kim Desenberg of the Wylie Wabbit Mr. McGregor. "Wabbits like to reach. It was fun doing the reaching legs, but the left side was favored all day, so there wasn't much of a tactical challenge." The Wabbits were sailing for their Nationals, aka Wabbit Galactic Carrot Championship. Melinda Erkelens won the regatta on Jack.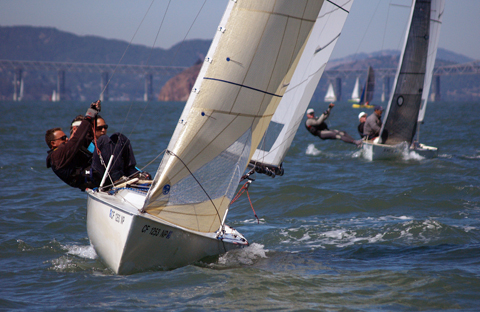 Here come the Wabbits, with 24K in the foreground. ©2012 norcalsailing.com
Some boats had the usual trouble at the reach mark trying to jibe in the wind and choppy water. And even here it was a mixed fleet of boats dumping it equally. There's something about racing alongside septuagenarians in Snipes and a little girl on a Laser that makes this sport so different.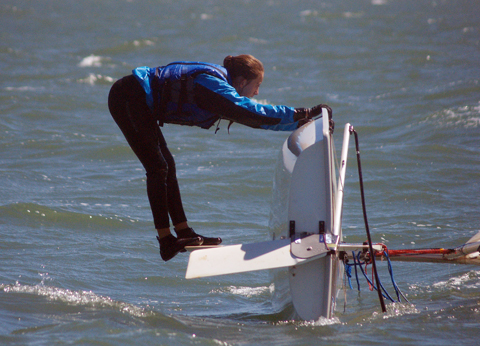 Alyson Crowley, enjoying her first Laser race. ©2012 norcalsailing.com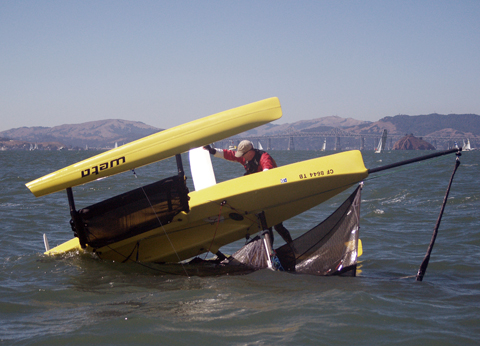 A line from a crash boat wrapped around an ama righted this Weta. ©2012 norcalsailing.com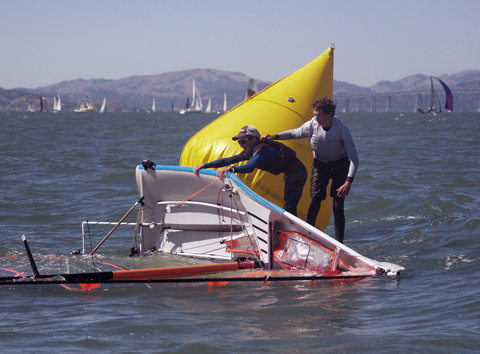 This young 29er crew were mostly concerned about hitting the mark. They righted their boat, did a circle, set the chute and were off and running. ©2012 norcalsailing.com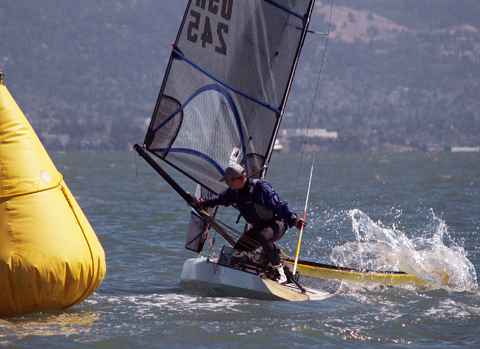 The same reaching mark about to claim International Canoe sailor Stephen Gay. ©2012 norcalsailing.com
For the hodgepodge of results, see www.richmondyc.org.