September 22-23 marked the 20th edition of Island YC's Women's Sailing Seminar, and the students and their female instructors were blessed with perfect teaching conditions: warm sunshine, mellow but consistent breeze, and the flat water of the Oakland-Alameda Estuary. Island YC's Commodore, Kristen Soetebier, picks up the tale:
"A champagne toast and cake were served to celebrate the 20th anniversary of the Northern California Women's Sailing Seminar hosted by Island YC. The seminars began in 1993 when accomplished sailor Linda Newland and fellow IYC club member Mary Quigley (now deceased) returned from a similar event in the Southland thinking, we need one of these up north! Thus the concept of women teaching women came to San Francisco Bay, and hundreds of women have passed through the program to 'Capture the Power' since its inception."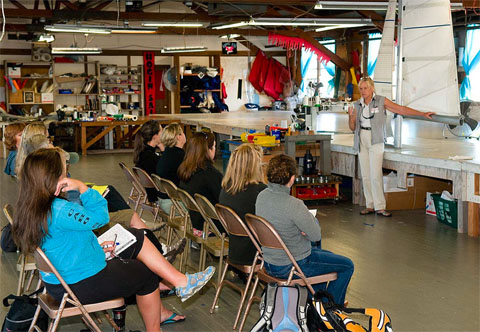 Nearby Hogin Sails offered their loft for one of the classrooms. ©2012 Island YC
"This year's chair was Nancy Hird, and all instructors, 15 boats, and classroom space were donated to the effort. In response to the increasing number of recidivists and women with advanced skills, new tracks emerged focusing on Spinnakers and Blue Water Sailing."
Saturday's activities began with a keynote presentation by Danette Davis, director of Marin Sailing School's Program for the Blind and Erin Lauridsen, the only female helmsperson in this year's Blind Sailing Regatta and recipient of the Sportsmanship Trophy. Classroom, dockside, and on-the-water classes followed. "The students learned valuable skills on Saturday including Shorthanded Sailing; Diesel Maintenance, and Navigation," said Kristen.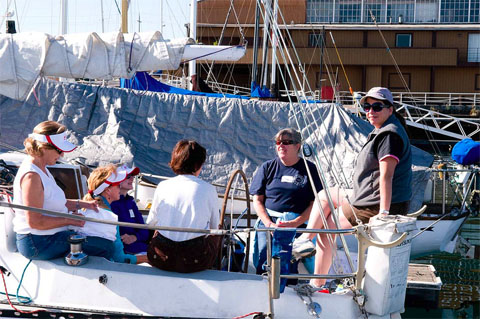 A dockside class aboard the Islander Bahama 30 Wuvulu covered BoatSpeak. ©2012 Island YC
After instruction on Saturday, the 46 students, 22 instructors, and many volunteers were treated to a really fabulous spread of 'heavy' hors d'oeuvres and extensive raffle prizes donated by numerous sponsors.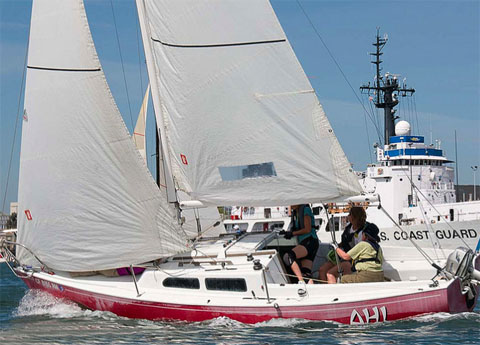 The Santana 22 Ahi was among those racing on Sunday. ©2012 Island YC
Sunday was spent entirely on the water, either racing in Santana 22s or cruising on larger boats. "A little over half the group chose chose to venture out to the Bay on the Catalina 36 Interlude (courtesy of Mike Joyce), the Catalina 38 Harp (courtesy of Mike Mannix), and the Express 37 Golden Moon (courtesy of Bill Bridge and Kame Richards) with female instructors," said Kristen.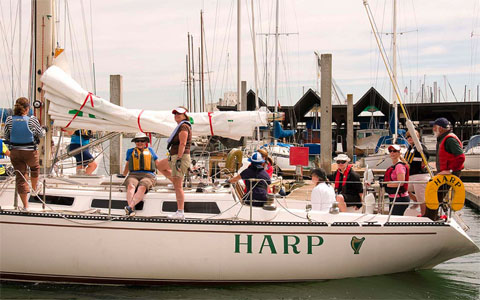 Harp departs the dock bound for a Bay cruise. Owner Mike Mannix is only aboard in case of an emergency. ©2012 Island YC
"The remaining students got in four one design races on five donated Tunas in light to moderate winds of 8-12 knots. Kelly Shawn came in first place with instructor/boat owner Leah Pepe guiding her students. Second place went to Kristen Soetebier's Pueo and instructor Carla Thorson's team. A full awards ceremony followed with trophies ranging from plastic hand clappers to pinwheels for the team that was able to make their own wind and sail past the others. A great weekend was had by all."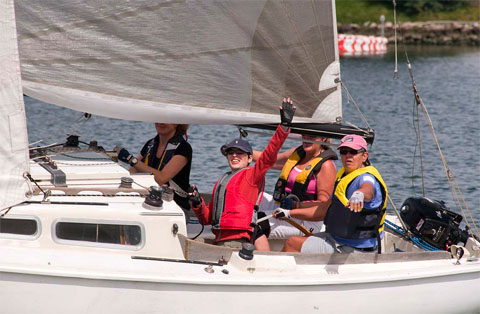 A wave from a student aboard Leah Pepe's Santana 22 Kelly Shawn. ©2012 Island YC
Check out more photos from Rich Ahlf and Dave Bloch at www.flickr.com/photos/44935689@N07, and keep an eye on www.iyc.org. for info about next year's seminar. IYC's next event for women sailors is the coed triplehanded Jack and Jill + 1 race on November 4.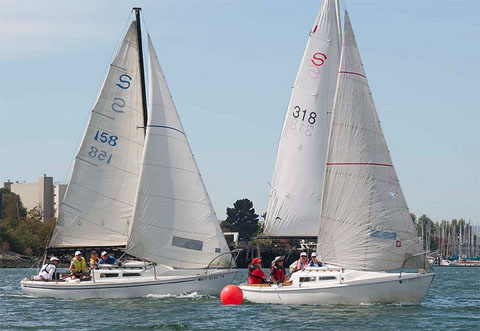 Racing on Sunday aboard Santana 22s. ©2012 Island YC