The 2016 Olson 25 Nationals and J/24 District 20 Championships were held on the weekend of August 20-21 and organized by Berkeley Yacht Club. Sunshine and 'properly' aligned breezes (from 220°+/-) of 11-18 knots were enjoyed by all — racers and race committee alike.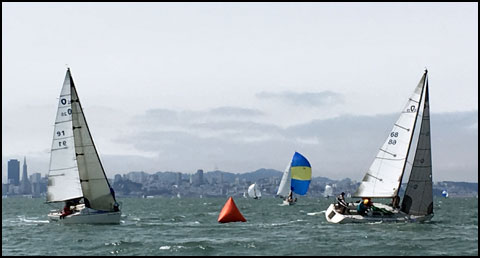 Olson 25s at a leeward mark rounding. ©2016 Patrick Hind-Smith
The Olsons were given three races on Saturday, including a 12.5-mile Bay tour that included Harding and Blossom Rocks. By sundown Saturday, there was a tie for first, and third place was only two points behind. Since this was a no throw-out event, breaths were bated going into Sunday. In fact, the eventual winner wasn't decided until after the fifth race!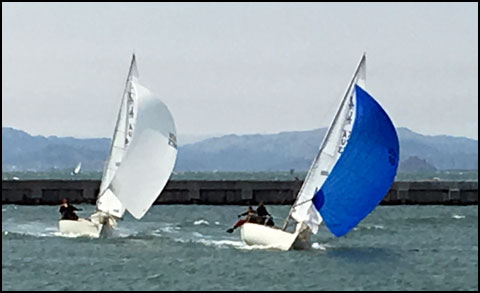 A J/24 battle to the finish between Downtown Uproar (left) and Shut Up and Drive (right). ©2016 Patrick Hind-Smith
The J/24s chose to do only windward/leeward courses — no Bay tour. They also had very close competition with just one point separating first and second going into Sunday's races.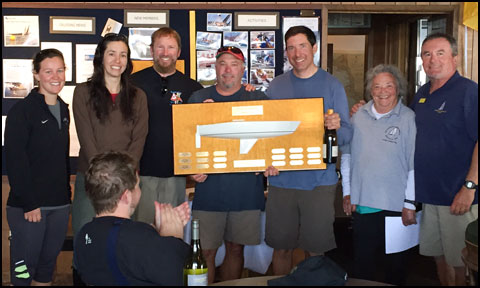 Darren Cummings and the crew of the J/24 Downtown Uproar with the perpetual trophy. BYC PRO Bobbi Tosse and Commodore Patrick Hind-Smith are on the right. ©2016 Berkeley Yacht Club
Full results can be found at www.berkeleyyc.org/racing.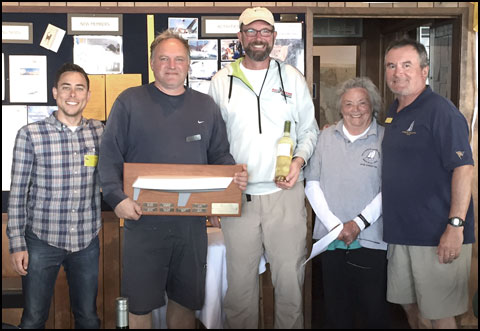 Falk Meissner, flanked by his crew of the Olson 25 Shark on Bluegrass holding the perpetual trophy. ©2016 Berkeley Yacht Club
— Bobbi Tosse, PRO