It was a weekend BTR (Between the Rains) on November 11-12. Berkeley Yacht Club ran the first of their four Midwinter races. BTR often means light and I-don't-know-which-way-to-go winds, and that was the case on the second weekend of November 2017.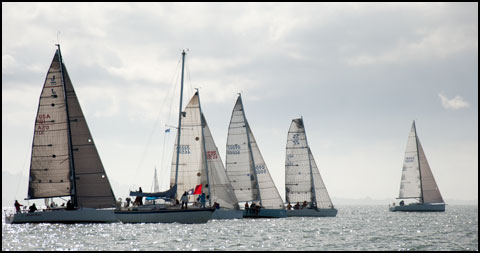 The Division 1 start on Saturday. ©2017 norcalsailing.com
Saturday
An unpredicted north-northwest and very light wind greeted us at the noon start time. We toyed with the idea of postponing until the westerly showed up, but instead opted to not waste such a 'pretty little breeze'. (Good thing, too – the predicted westerly didn't show up until about 1500.)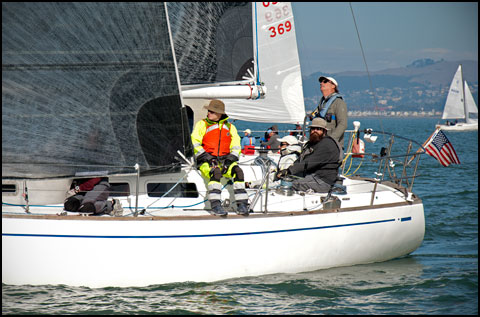 Bob Walden's Cal 39 Sea Star racing on Saturday. It was mostly sunny but chilly out on the water. ©2017 norcalsailing.com
After a minor 5-minute delay, the 42 entrants in seven divisions were sent on an 8-mile double windward/leeward course. After two to three hours of gently sailing in flat water and sunshine all but the two boats that opted to drop out had finished.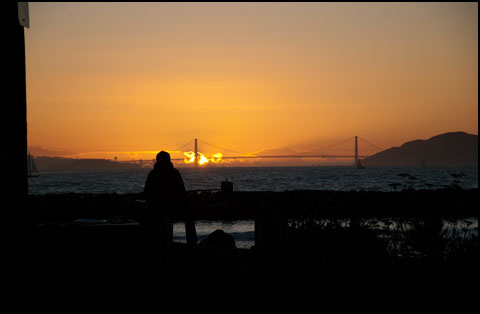 Sunset from the Berkeley Yacht Club. ©2017 norcalsailing.com
Sunday
As usual, it seems, Sundays are completely different than Saturdays. On November 12, instead of an unpredicted north-northwest, we were greeted at noon with an unpredicted south-southeast. We sent the 25 boats in four divisions off on an 8-mile double windward/leeward race. By 1245, it was clear that this option was not going to work. The wind had dropped to almost zero. The little breeze that did exist was wafting in from the west. We chose to shorten the course to 5 miles, and all but one boat managed to finish after enjoying one and a half to two hours of sunshine and flat water.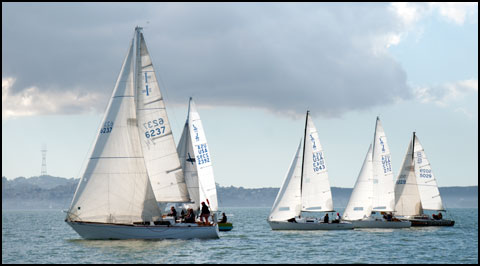 PHRF Division 2 lines up to approach the startline on Sunday. ©2017 norcalsailing.com
No one got wet and all seemed to enjoy the BTR weekend. Full results can be found at www.berkeleyyc.org. The next BYC Midwinters weekend will be on December 9-10.
— Bobbi Tosse, BYC race person