We slogged our way through two and a half hours of rainy-day Bay Area traffic to get to the Singlehanded Sailing Society's Three Bridge Fiasco pursuit race skippers meeting in Alameda, and were we glad we did. Among the usual tips, tidbits and peripheral business was the following gem, courtesy of Kame Richards. "Start times are very important," said the local sailmaker, a font of local knowledge and racing wisdom. "They were changed! Make sure you get the newest one (the distance was recalculated)." Kame said that one time he used the wrong starting time — he was looking at the previous year's start time sheet. He watched the other Express 37s start and wondered what the heck they were doing. This year the start times sheet was changed online on Wednesday. So make sure you have the current one! See www.jibeset.net/show.php?RR=JACKY_T006713782&DOC=X0&TYP=pdf.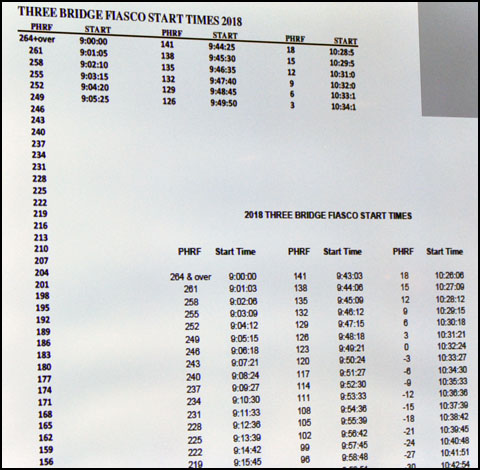 Two start sheets for 2018 with different times. One was on Jibeset on Wednesday morning, the other on Wednesday evening. ©2018 norcalsailing.com
"The first start is at 9 a.m.," said the new SSS race chair, Jim Vickers. "We're not going to postpone. If there is no wind that's too bad — that's why it's called a fiasco. I can't imagine a scenario where there would be a general recall."
Entries must check in 10 minutes before their start time and must receive acknowledgment from the race committee. Odd sail numbers check in on VHF 71 and even sail numbers check in on 72. Someone asked: "For check-in, is that the last number on the sail?"
"Yes; without getting into too much math, the other numerals are factors of 10," replied Jim. After check-in, 72 will be the working channel for everyone.
Kerry Bolen of USCG addressed the crowded room at Oakland Yacht Club too. She pointed out that the safety zone under the east span of the Bay Bridge is gone, "So feel free to spread out." The Coast Guard Station on Yerba Buena Island is restricted out to 100 yards (SSS plans to place a buoy to mark the zone). Bolen will be on duty on the pier. "I'll wave to you when you sail by." A color chartlet of this restricted area and one of the Richmond Long Wharf are included in the race's Sailing Instructions.
Make sure you read both the Notice of Race/Standing Sailing Instructions and the additional Sailing Instructions. With 360 boats signed up, it will help if everyone knows what's going on!