Seven out of the 11 Santana 22s registered came out to race in Encinal Yacht Club's Jack Frost Midwinters on Saturday. With the wind initially filling in from the south, the race committee set up the start line near the east side of Alcatraz and the windward and offset marks towards the Bay Bridge. Indeed, the wind filled in for the first four divisions and most of those boats were able to finish the first race. By the time the Santanas arrived at the windward mark, the wind died and the strong current was pushing the fleet well below the mark. Eventually a northerly started to slowly fill in. The race committee abandoned the race for the Santana 22 division and set up the course for the second race with the windward mark toward the Richmond Bridge.
The new breeze was promising, and the fleet was off to a good start. However, the breeze eventually lightened, and the current turned around and was once again pushing the fleet away from the windward mark. Oreo and Carlos made it around and jumped on the conveyer belt to the finish line. Those few who continued to persevere toward the mark rounding ran out of time and gracefully called in their DNFs.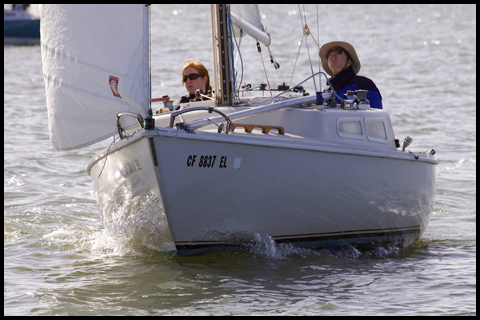 Emily Selke and Garth Copenhaver on Oreo, which is leading their division. ©2013 Fred Fago
Results are online. Thanks to the race committee at EYC.
- Jennifer McKenna, Santana 22 Fleet Co-Captain