Saturday started out as a lovely, light air day for the young sailors in the second regatta of the Bay Area Youth Sailing (BAYS) summer season. Hosted by Richmond YC, fleets of Optis, C420s, Laser Radials, CFJs and 29ers raced out in the breeze and chop in the Southampton racing area, while the Opti Green fleet (mostly very young children) sailed in the protected waters close to shore of Richmond's Potrero Reach. Richmond YC hosted the weekend-long event.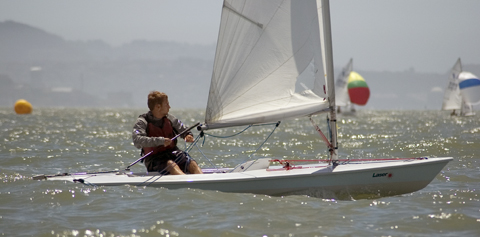 Nicholas Delfino sailed a Laser Radial. Those are 420s coming down under spinnaker in the background. ©2012 norcalsailing.com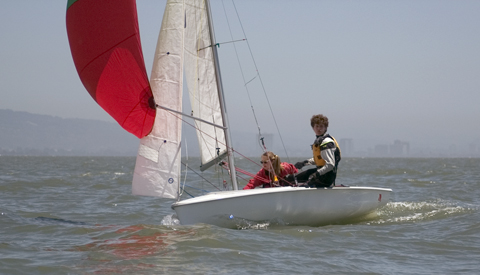 The more experienced 420 sailors flew spinnakers; they were all scored together. ©2012 norcalsailing.com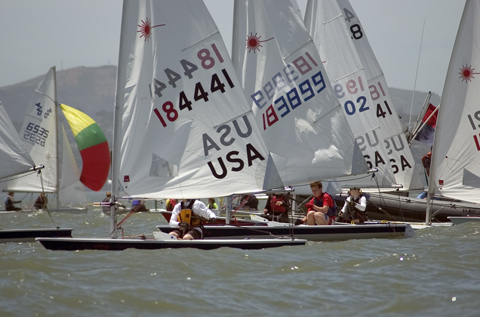 This Laser start resulted in a general recall. ©2012 norcalsailing.com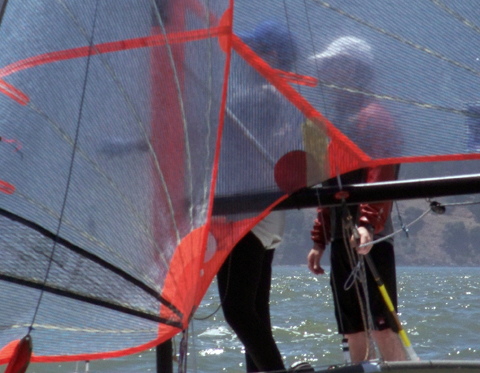 Four 29ers made it out for the regatta. This is Joe Carter and Harry Schmidt checking the course before their start. ©2012 norcalsailing.com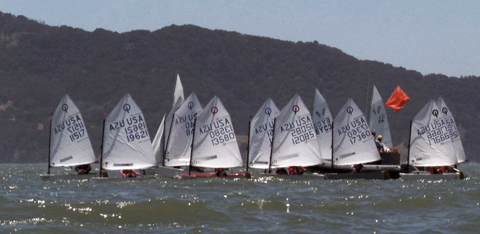 An Opti fleet start on the outside course. ©2012 norcalsailing.com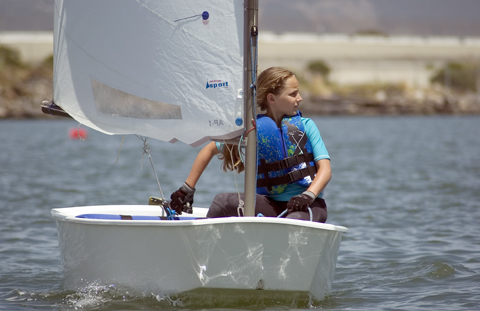 Opti sailing close to shore near Pt. Richmond's Brickyard Cove. This is Zsazsa van Raalte. ©2012 norcalsailing.com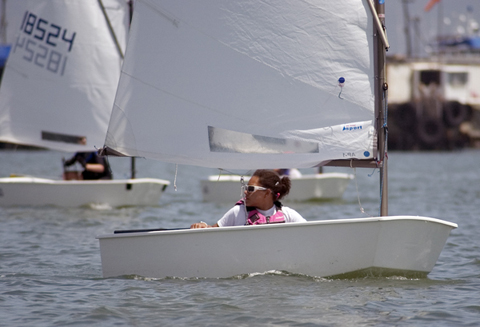 The Opti Greens were the biggest fleet, with 26 boats. This is Madison Gray. ©2012 norcalsailing.com
By mid-afternoon on Saturday, the wind had piped up to about 18 knots. The kids brought their boats in to RYC, pulled them out of the water, derigged them, and tucked them out of the away to await another day of racing on Sunday. "Today was great, better breeze and more races for the kids," commented Dan Brandt Youth Sailing Director at RYC. Preliminary results are here.
The series continues on July 14-15 at San Francisco YC. See www.bayarea-youthsailing.com for more information. The next event for Bay Area Opti sailors is the Opti Heavy Weather Clinic on June 20-21 at St. Francis YC.