As a prequel to what could be a long week, the Hobie North Americans started racing today out of Sausalito with two classes. The venerable Hobie 16s and the stocky 20s had a handful of wind with shifty puffs up to 25 knots.With the gusty conditions, the two crash boats that had been assigned clean-up duty were very busy helping right downed cats all day. It seemed like a third of the fleet were sideways at one time or another. Most of the competitors could right themselves, but with the strong flood and strong wind some were swept downstream and had to be assisted before ending up somewhere in Richmond.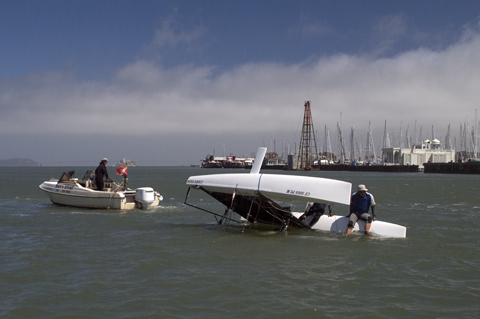 Just getting home to the beach was hard. Carpe Diem, a Hobie 20 found the mud just yards off of Dunphy Park . ©2012 norcalsailing.com
Sausalito Yacht Club will be running the races all this week, and the boats will be based out of Dunphy Park next to the Sausalito Cruising Club.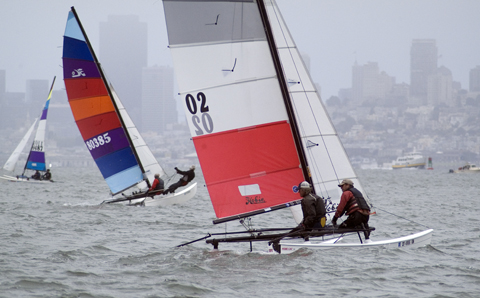 The 16s have the bigger class with 34 boats. Here is Rob Howe's 16 from Santa Cruz, with Mark Sailer crewing. ©2012 norcalsailing.com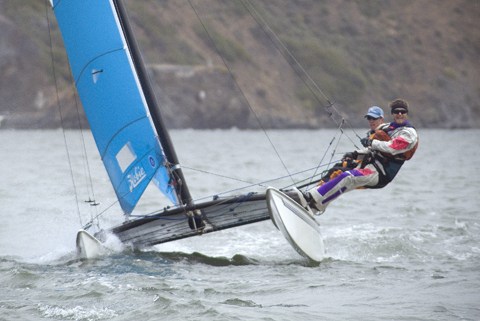 While others were falling down some were still having fun. Tim Webb and Rich Arneson came from Hoquiam, WA. ©2012 norcalsailing.com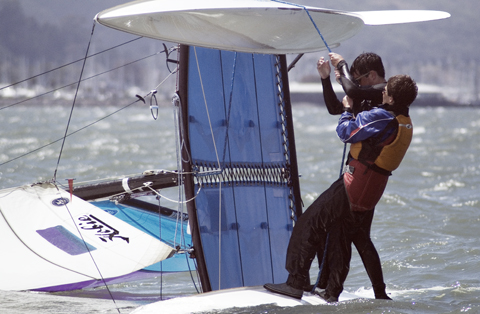 It takes a certain technique to right a Hobie. If that doesn't work, ask for a tow. ©2012 norcalsailing.com
If this weather holds up, the racers will be plenty tired by Friday. We plan to have a full report on the regatta after Friday's final races. If you are in Sausalito in the evening this week, stop by the park and visit the camp and the weary competitors.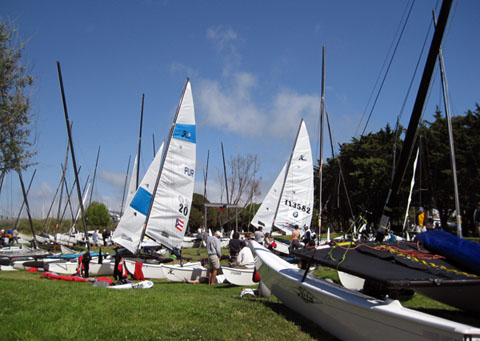 Cats go feral in Dunphy Park. ©2012 norcalsailing.com
To see more go to the event website here. We've added photos and a slideshow from the week to our galleries section. Also be sure to read our next story, a wrap-up of the whole week.