The SSS Singlehanded TransPac to Hanalei Bay, HI, is off and running, so now's the time for all you couch racers to root for your favorite weather route and boat. The boats were feeling the pressure before Saturday's start at the Corinthian Yacht Club from well wishers asking the same question: "Are you heading south or following the rhumb line to Kauai?" And: "Will it be a slow boat year or will the ultralights win out?"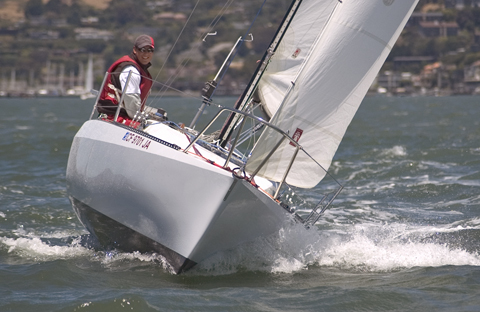 Ruben Gabriel and his newly restored Moore 24, Rushmoore. ©2012 norcalsailing.com
This year we have the added attraction of Yellowbrick transponders on all 23 boats. (They update position and speed every two hours.) So sit back with your iPad and the cat on your lap and watch the race slowly unfold.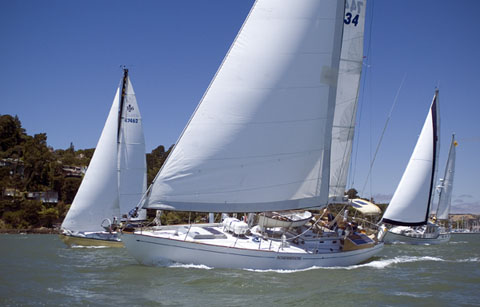 Frolic, Scaramouche, and Galaxsea shortly after the start. ©2012 norcalsailing.com
These are the sites we will be checking out:
www.sfbaysss.org, the mothership for you shorthanded fans.
http://singlehandedtranspac.com, the official race website.
http://yb.tl/shtranspac2012, Yellowbrick's TransPac site. May work better than the SSS link if you're having problems.
More Yellowbrick links:
http://yb.tl/Leaderboard/shtranspac2012?tag=1768, leaders
http://yb.tl/links/shtranspac2012, raw data for nerds
www.passageweather.com, a good site for basic weather and winds to Hanalei. Click on the California to Hawaii window and you can view the whole race course.
http://manati.star.nesdis.noaa.gov/datasets/ASCATData.php (ASCAT). A European satellite glides past on a polar orbit looking at waves and figures out how windy it is in near real time.
These link to some of the competitors' blogs:
www.thepinkboat.org/default.aspx, Darwind, Tom Watson.
www.openbluehorizon.com, Ronnie Simpson and his Moore 24.
http://rubengabrielsailing.com RushMoore with Ruben Gabriel.
http://adrianjohnson.info, previous winner, from Seattle.
www.turbocamper.com, the Hobie 33 featuring Brian VanderZanden.
www.facebook.com/OpenSailingOffshoreRacing, Jerome Sammarcelli and the Mini Pogo 2.
http://soloslacker.wordpress.com, Whitall Stokes on Slacker
Any others?

Jim Quanci looking relaxed at the dock the morning of the start. ©2012 norcalsailing.com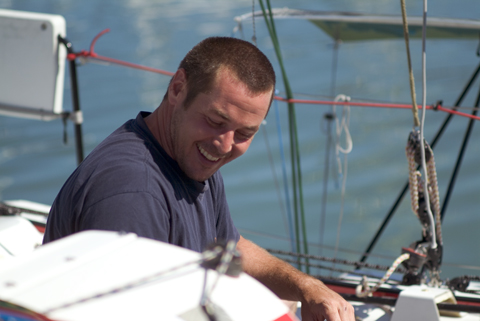 Jerome Sammarcelli will be working hard on the Mini. And may be hard to beat. ©2012 norcalsailing.com

Ronnie Simpson was wounded in Iraq eight years ago and is sailing for Hope for the Warriors. ©2012 norcalsailing.com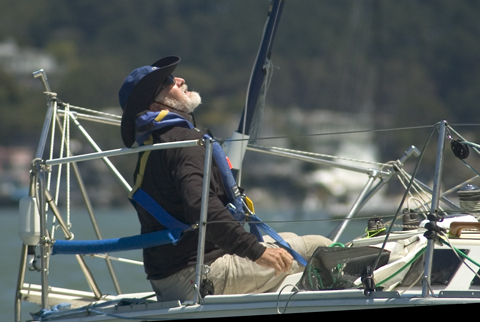 It's like sailing a big El Toro. Al Germain on the Wyliecat 30 Bandicoot will probably be in this position for most of the race. ©2012 norcalsailing.com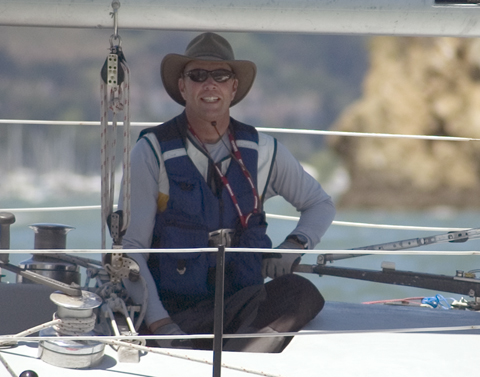 Could this be the sleeper in the Thirtysomethings class? Dave Morris and his Wylie 31 Moonshadow. ©2012 norcalsailing.com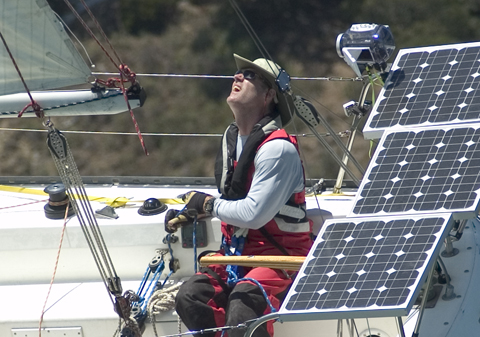 Whitall Stokes' Tartan Ten Slacker, a very clean and well set up boat. ©2012 norcalsailing.com

Jerome Sammarcelli's Pogo 2 Team Open Sailing. ©2012 norcalsailing.com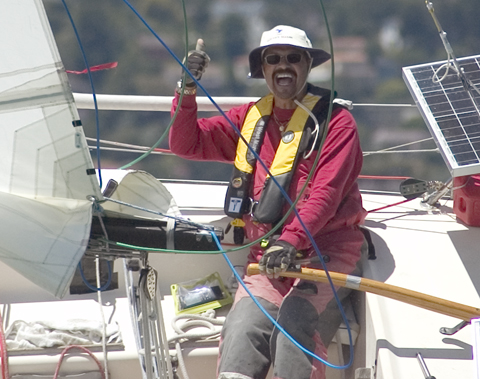 George Lythcott's sophomore effort on his Express 27 Taz!! ©2012 norcalsailing.com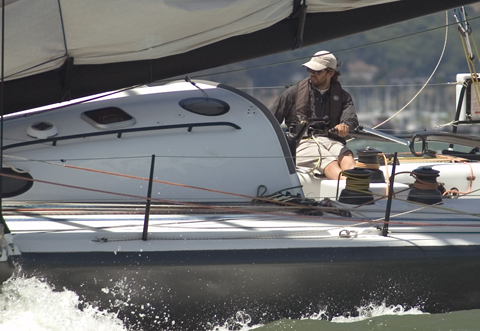 Alex Mehran's Open 50 Truth started last but quickly left the rest behind. ©2012 norcalsailing.com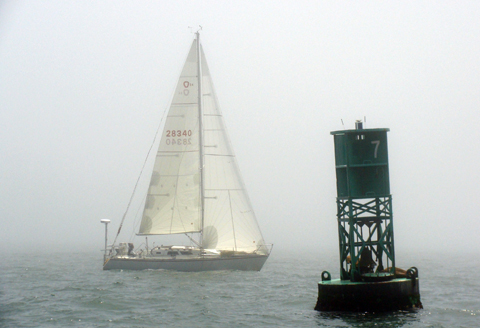 Brian Boschma's Olson 34 RedSky at the first channel mark outside the Bay, about three and a half miles past Point Bonita. ©2012 Pat Lowther/Sylvia Seaberg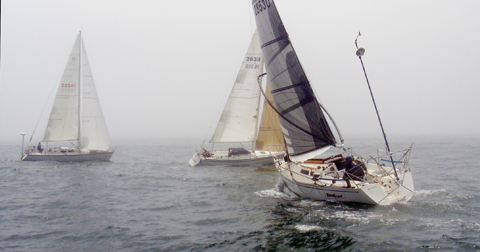 Still close enough to see each other in the fog on Saturday afternoon: Red Sky, Slacker, Bandicoot. ©2012 Pat Lowther/Sylvia Seaberg