We just counted on our fingers, and by our estimation Saturday, June 30, marked the fifth running of the stately race that began in August, 2008, moved a bit earlier in the summer this year. San Francisco YC hosted 12 entries in 2012's Great Schooner Race.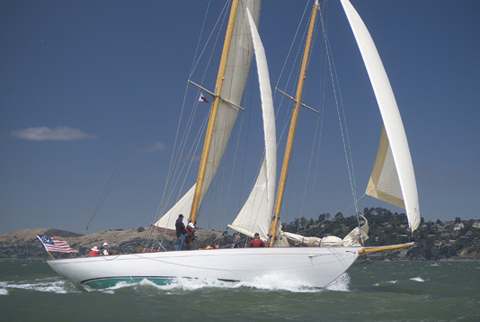 The Kaplan family's 55-ft S&S Santana. ©2012 norcalsailing.com
Despite the ponderous grace of the entries, the competition was spirited. We even heard grumbles of a port-tack foul near the finish, but no protests were filed.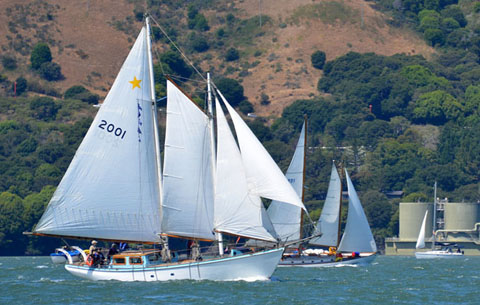 Gold Star and Elizabeth Muir in the race… ©2012 Roxanne Fairbairn/roxshots.smugmug.com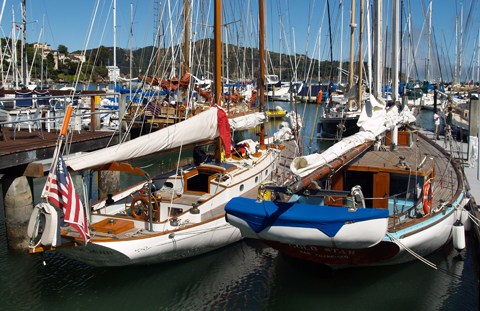 …and at the SFYC guest dock. ©2012 norcalsailing.com
The race is something of a pursuit, with start times assigned to each boat but rounded off to the nearest five-minute intervals. They're split into two divisions, Marconi and Gaff. The 70-ft Marconi-rigged Aldebaran, out of Pt. Richmond, started first at 12:00, and finished first, a mere three seconds ahead of Alan Olson's 82-ft staysail schooner Seaward, which started at 12:40.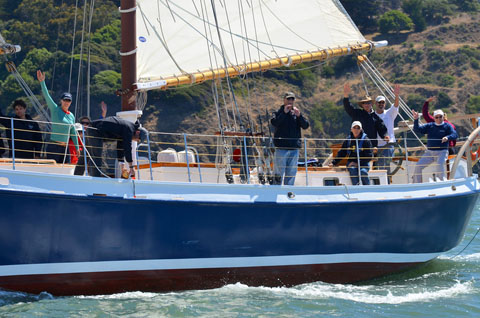 The 78-ft Sausalito-based Freda B at the finish. ©2012 Roxanne Fairbairn/roxshots.smugmug.com
The last boat to start, Jeff Hawkins' Gaff-rigged Jakatan, at 12:55, couldn't make up the time on her division sisters, and came in last of five gaffers. John McNeill's 1906 Yankee had the honor of first in that division, with the next two positions a photo-finish between Terry Klaus's Brigadoon and Paul Dines' Freda B.

The trophies await their new owners. ©2012 norcalsailing.com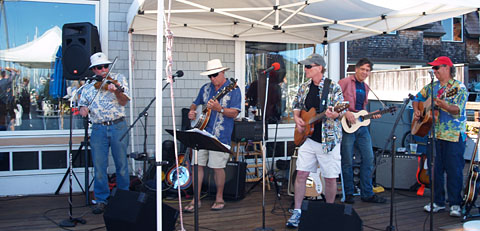 The Slipper Fingers Band entertained the racers and visitors on the sun-soaked SFYC deck. ©2012 norcalsailing.com
You can find results at www.sfyc.org, and be sure to check out more of race committee volunteer Roxanne Fairbairn's photos.