Both lifelong sailors, Jenna Browning, 32, and Jay Hickman, 38, have been engaged since early 2017 and are getting married on April 7, 2018.

Visiting the Grand Canyon. ©2018 Jay Hickman
Jenna grew up near Weymouth, the 2012 Olympic sailing venue, on the south coast of England. Her family bought an old 16-ft Wayfarer dinghy when she was 8 years old. She then got her own wooden Optimist and raced at a club level at Castle Cove Sailing Club, eventually graduating to Lasers and becoming an instructor. Since moving to San Francisco in 2012, Jenna has sailed as much as possible, particularly on the 1D48 Bodacious+, the Cal 39 Sea Star and Express 27 Hang 20. (Jenna is not our first 'Sailing Valentine' from Sea Star and Hang 20; read about last year's Sailing Valentines here.)
Jay was taken on a boat within days of being born. He grew up in the Bay Area and spent every weekend as a child at Berkeley Yacht Club. He spent summers with family in Inverness, learning to sail El Toros and Lasers at Inverness Yacht Club (the couple's wedding reception venue). He has lived on board an Ericson 29, Moorea, and, currently, lives with Jenna on an Islander 36, Zorza, in Richmond's Marina Bay Yacht Harbor. Jay always thought he was a cruiser until John Clauser recruited him to Bodacious in 2010, and Jay soon discovered he is a racer at heart.
"We met racing on Bodacious+ in the summer of 2012," writes Jenna. The Hobie 33 Jenna she'd been racing on was dismasted, and she was invited on Bo+ for the YRA Second Half Opener. "We liked each other right away, and after a few months we started dating. We moved in together pretty fast and kept sailing on Bo+, plus working on the Islander 36.
Currently Jay is racing primarily on the Express 37 Stewball, and Jenna on the Express 27 Hang 20, both based in Richmond. "We are also (still) improving the Islander 36, and this year we plan to race the Richmond beer cans and doublehand the SSS races," says Jenna. "We have already spectacularly failed to finish the Three Bridge Fiasco this year, but we weren't the only ones! We are thinking about taking Zorza on our honeymoon in the fall, somewhere south from here.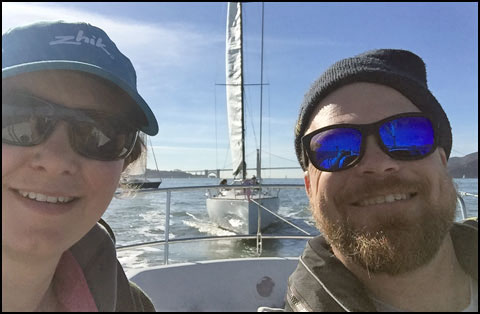 Zorza towing Hang 20 after the attempt at the Three Bridge Fiasco on January 27.
©2018 Jenna Browning
"We met through sailing and fell in love on boats. We have a roughly equal, shared obsession with sailing. Zorza has been a constant trial, a saving grace and a source of delight. Owning and improving a boat has been a great test of our relationship!"